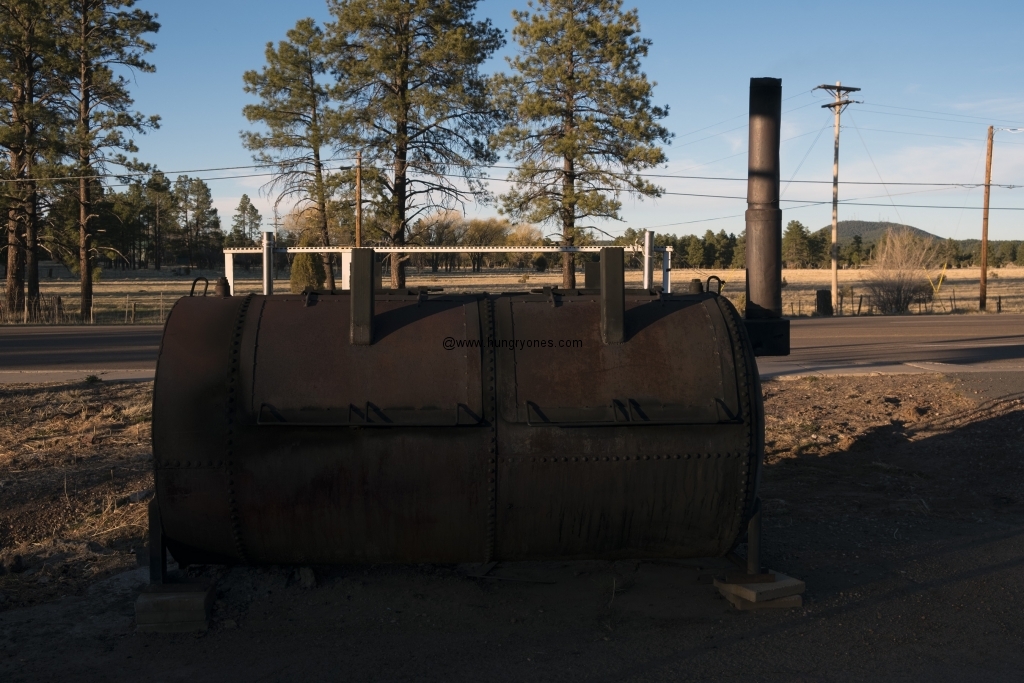 Outside the smoker fills the parking lot with mesquite smoke.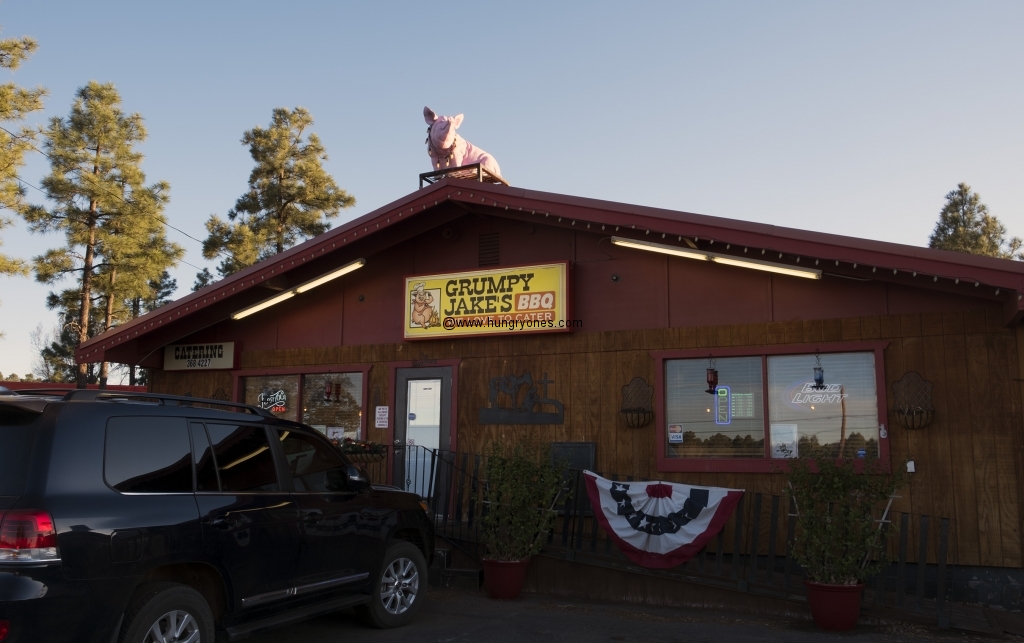 Walking to the entrance I get a good look at the pig on the roof.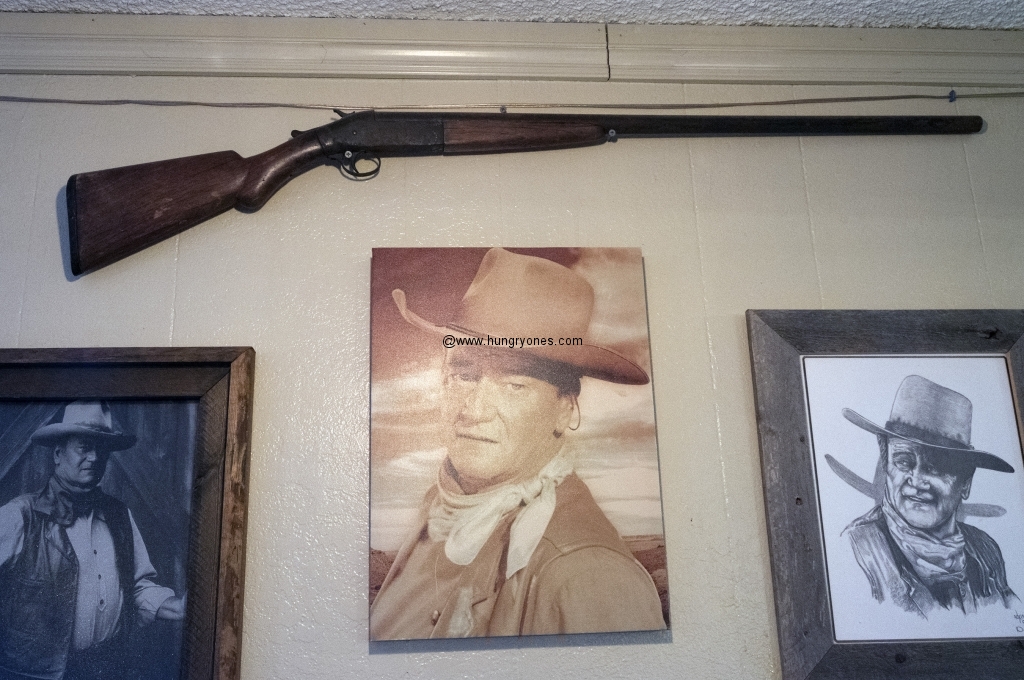 A wall inside is dedicated to John Wayne.  I wonder if the rifle above his portrait will still fire.  I was huge fan of John's westerns.  Then I started watching those new fangled spaghetti westerns with the awesome Ennio Morricone soundtracks.     
    Grumpy Jake's has the look of an old bbq from the days John Wayne movies were in the theaters.    
I ordered Jake's Super Sampler to get a variety of meats.
Chopped chicken was breast meat and a bit dry with mild flavor.  The sweet bbq sauce helped.  Shredded pork was also a bit dry with minimal flavor.  Beef brisket was melt in your mouth tender and had a delicious smoky mesquite flavor.  Pork ribs were amazing.  Fat on the ribs had rendered and the remaining pork was extremely tender, moist, and full of flavor.  Fresh potato chips were crunchy and had a delicious fresh potato flavor.
Grumpy Jake doesn't own this place anymore but the new owners still smoke with mesquite wood and I love the beef brisket, pork ribs, and potato chips.  I think the Duke would like it here too as I could see him mounting his horse and riding off into the woods after a good meal.
Menu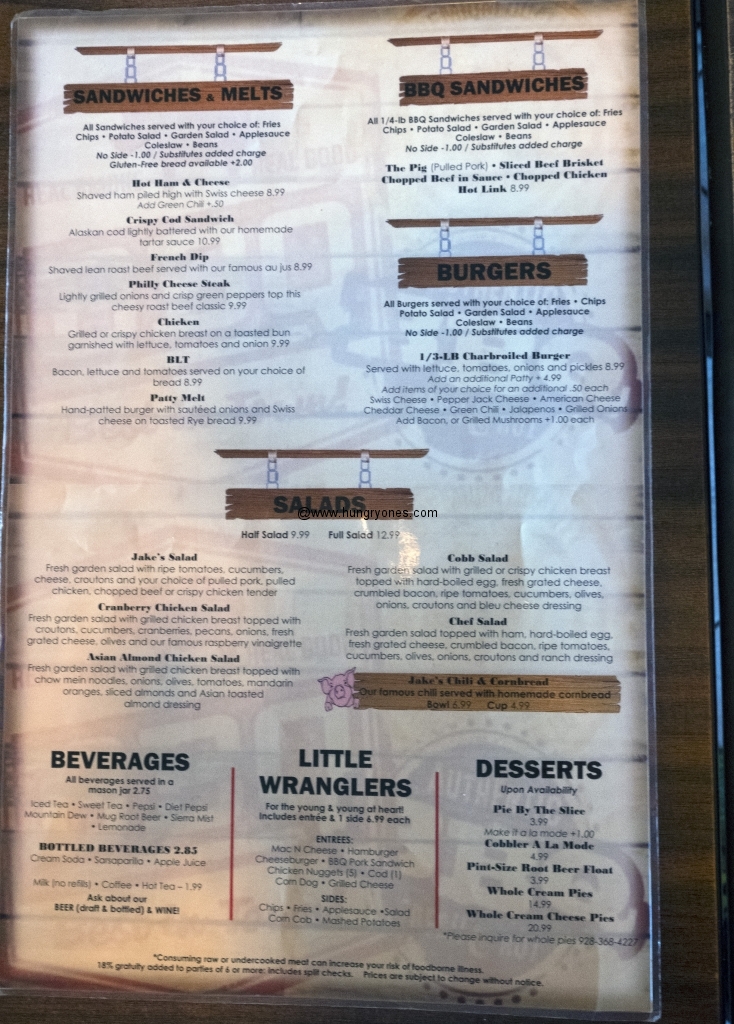 It's my first time visiting Pinetop Arizona and I'm glad to see there is some really good food up here served in places that have been around since the old days.    
Grumpy Jake's BBQ
3973 W White Mountain Blvd
Lakeside, AZ 85929 (928) 368-4227