I was watching the news and was thrilled to see Sister Pee Wee was being honored with Sister Pee Wee day on October 28 2017 by the Mayor and Larry Himmel Foundation.
http://www.cbs8.com/story/36708968/community-gathers-to-celebrate-beloved-soul-food-restaurateur-sister-pee-wee
I went to search for more information and found Sister Pee Wee had closed on October 6th.  She had a good run for 63 years but her health was failing.  
I met her for the 1st time in 2014 and reviewed her on Yelp.  There is a funny story about that meeting.  She was standing in front of me telling me about the menu options and I snapped a photo of her. Since then when I read articles about her on the internet many of the stories use the same photo of her I shot in 2014.  My memories of eating at Sister Pee Wee's will live on and I guess so will my photo of her thanks to all the Sister Pee Wee fans spreading the love.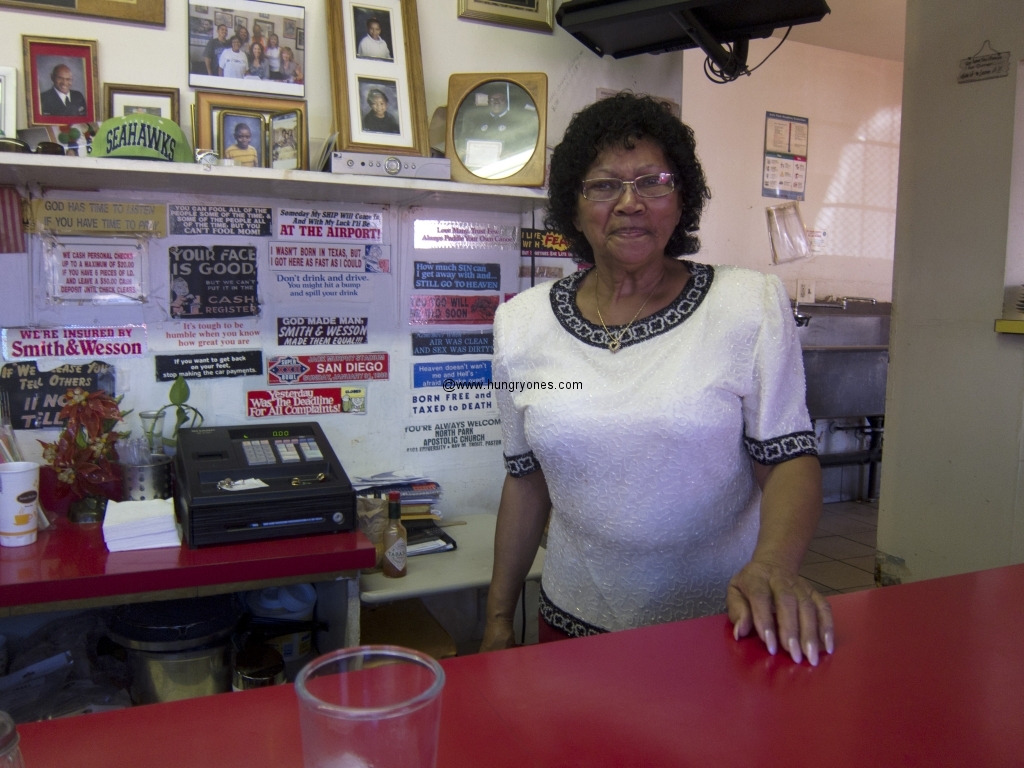 One of the sites using my photo:
http://sdvoice.info/pee-wees-soul-food-closes-after-63-years-of-service/
And I thank you for bringing me here
For showing me home
For singing these tears
Finally I've found that I belong here
Depeche Mode – Home
This place isn't like KFC with nice shiny plastic glistening like the sun.  Looking for a place that gets a face lift every 10 years to maintain the shiny plastic?  Just keep on moving.  This place is more like home.  Take a look at the walls and you can see how the years have gone by for Sister Pee Wee and her family.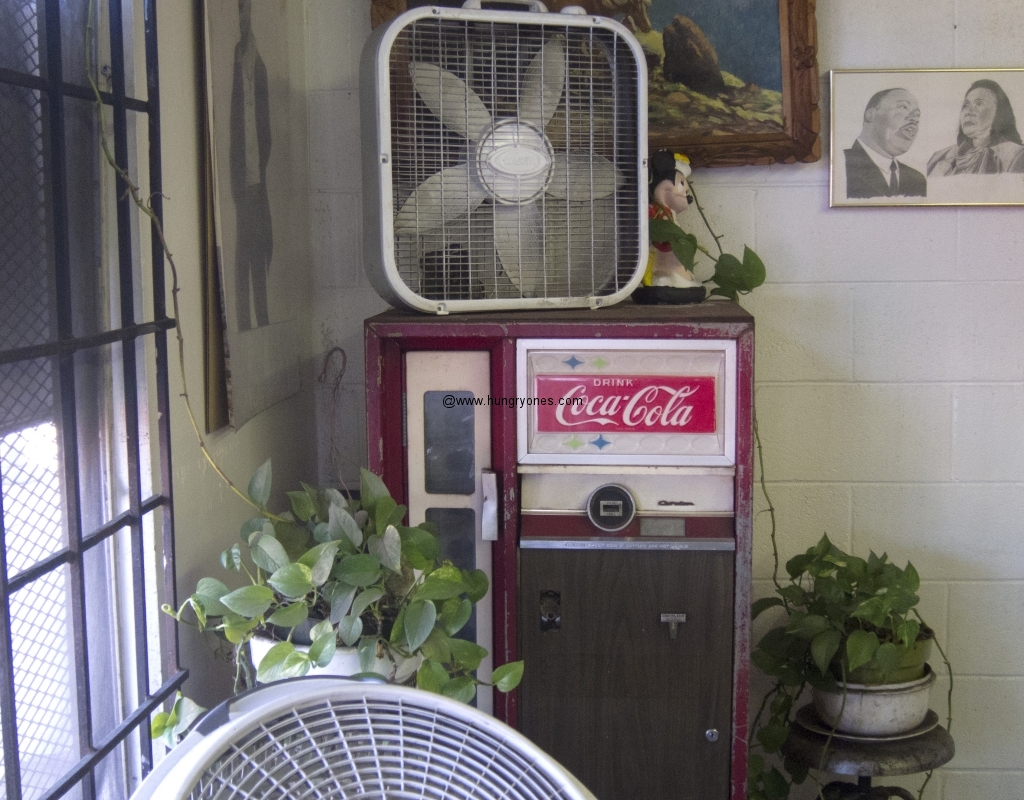 Wish my place was as cool with the old Coke machine in the corner.I was impressed by Sister Pee Wee's southern hospitality from how she found me a comfy spot to sit to making sure I had something to quench my thirst and fill my stomach.  None of that here's your menu and can I take your order stuff.I asked if I could have 3 pieces of fried chicken all dark meat and Sister Pee Wee thought she could accommodate me.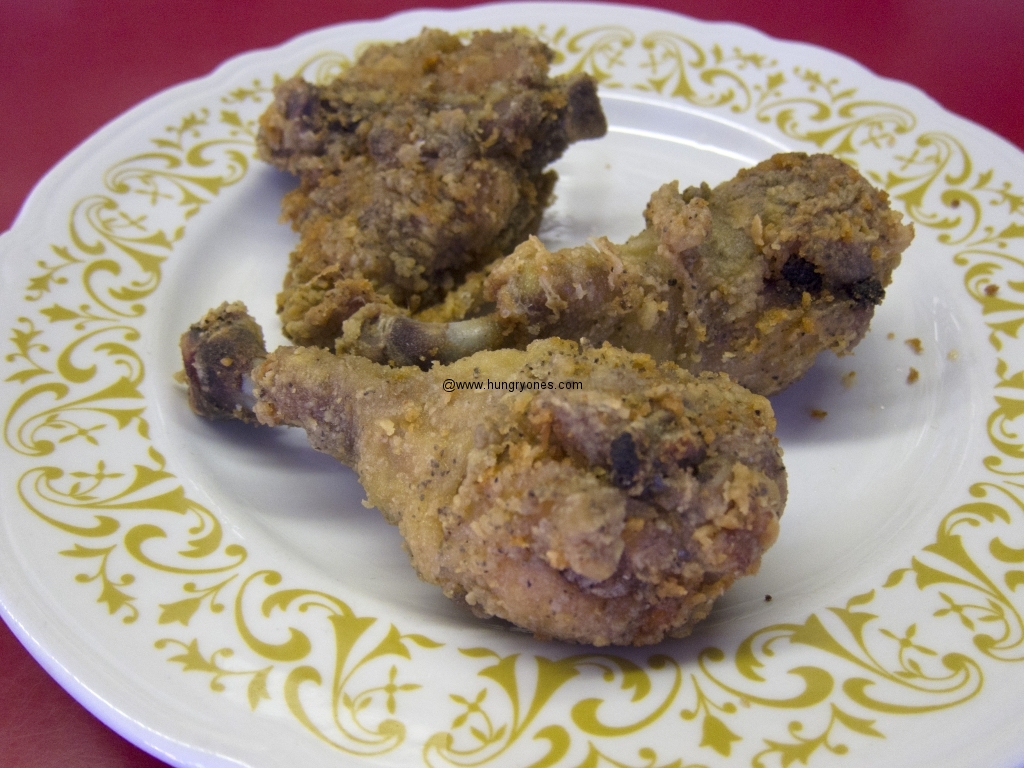 She brought out my plate promptly and I breathed deep that heavenly aroma of freshly fried chicken.  The batter and the chicken appeared similar to KFC original recipe.  At first it was tasting like KFC as well but then the more subtle flavors of the spices hit me.  It's hard to describe how good this chicken is compared to KFC.  Think about when you first made love to the one you love.  The smells and excitement before you touch and then the complex flavors as you taste each other.  This chicken is like that.  You remember those times when you weren't at the top of your game, you were drunk and lonely, it was closing time, and there was one last girl at the bar in the same circumstances?  KFC chicken is like that.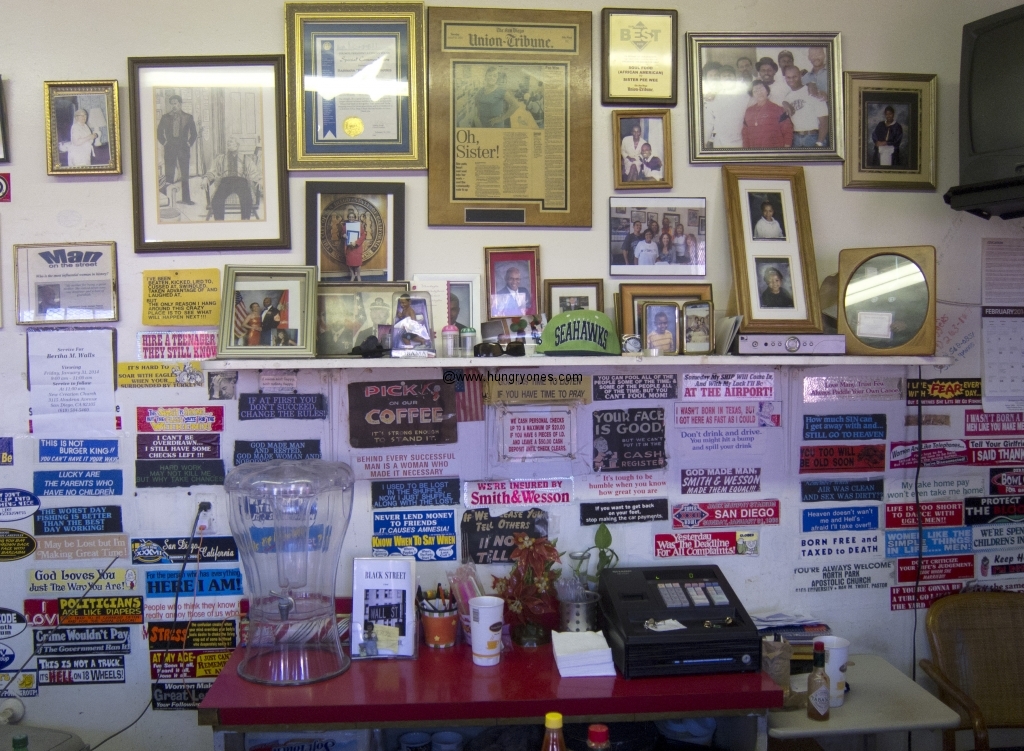 As I was leaving Sister Pee Wee thanked me for coming by and invited me to stop in again.  I will.  I have found my home.
Kirk of mmm-yso!!! visited too.
Sister Pee Wee's Soul Food 2971 Imperial Ave
San Diego, CA 92102 (619) 253-6455