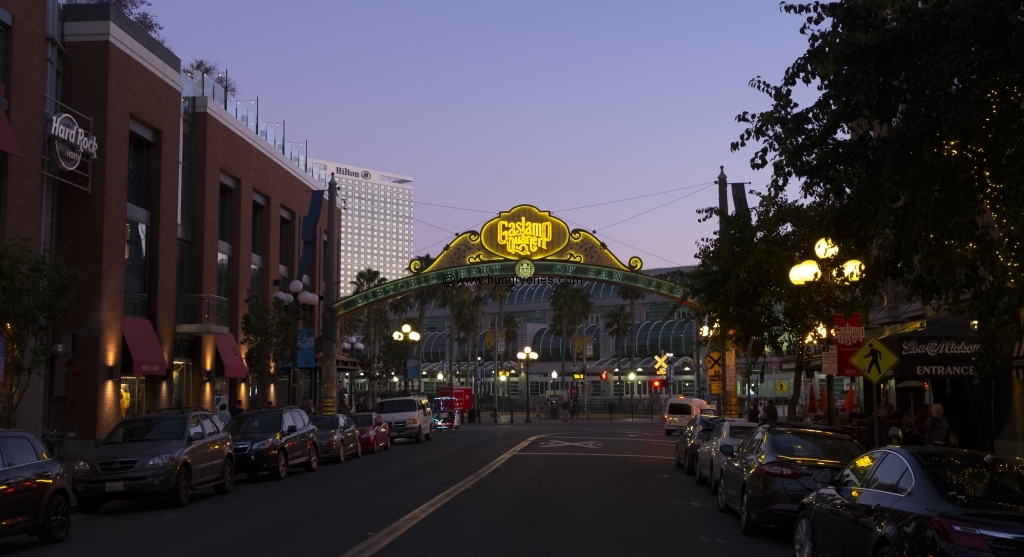 Gaze at the glowing Gaslamp Quarter sign.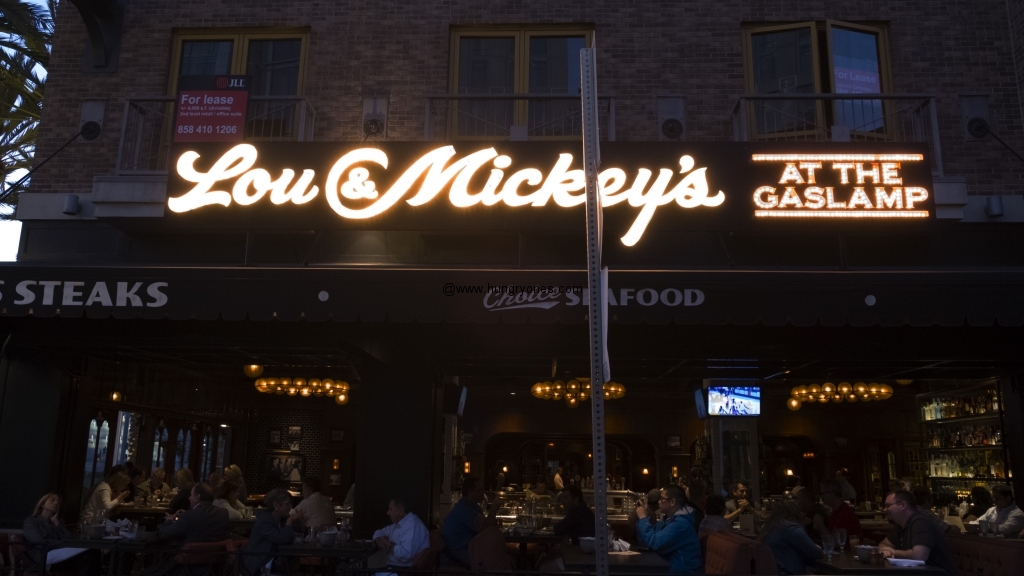 Lou and Mickey's is to the right.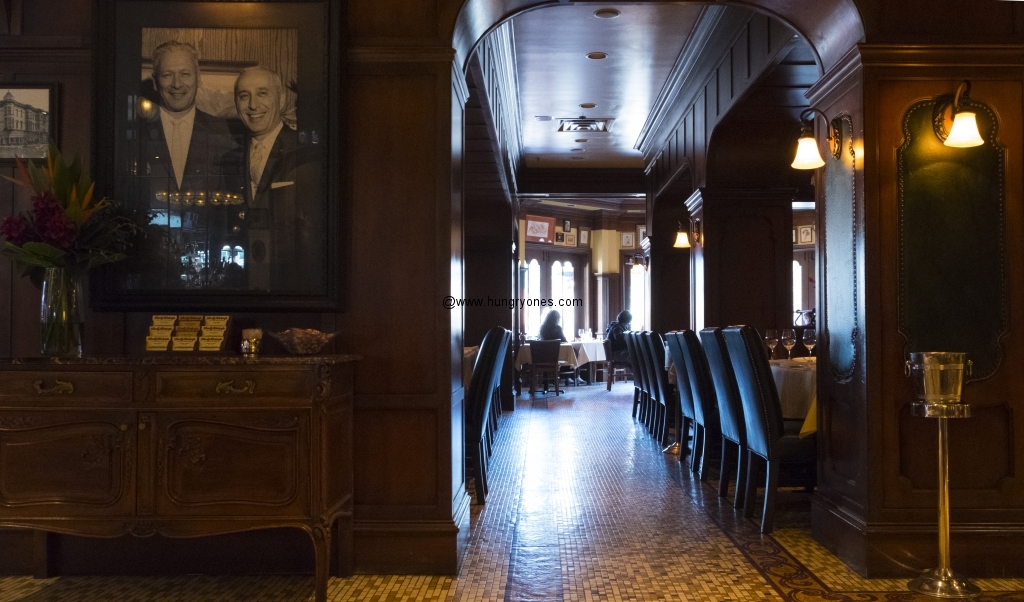 Looks like a fancy traditional steakhouse with a dim interior, dark wood, and leather.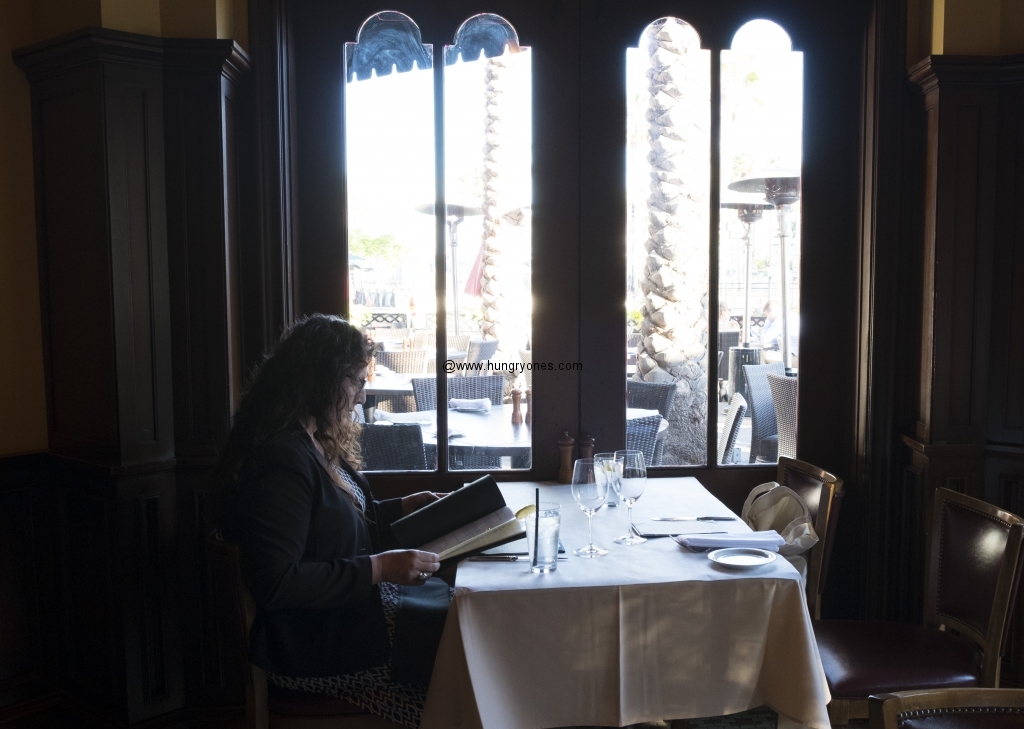 There are windows and tables with a view though.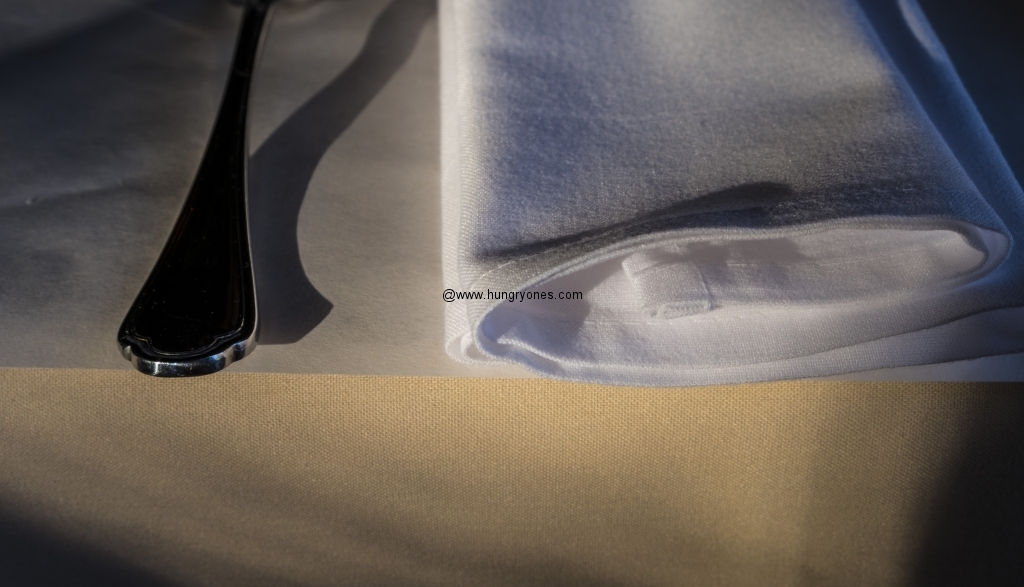 Tables are first covered in fine linen and topped with white butcher paper.  Lou and Mickey's really pays attention to the fine details.  Floor is composed of small intricately laid tile forming intricate patterns.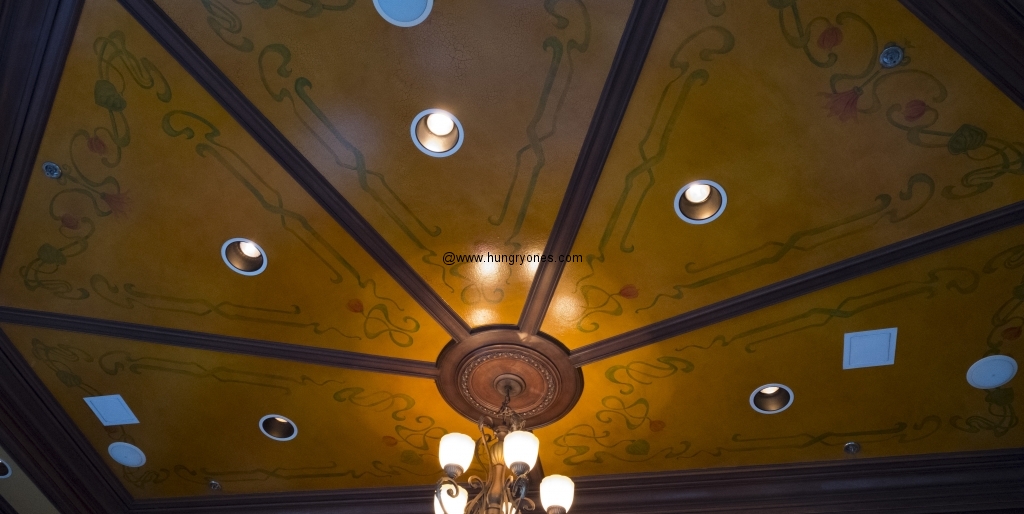 There are lovely patterns on the ceiling as well.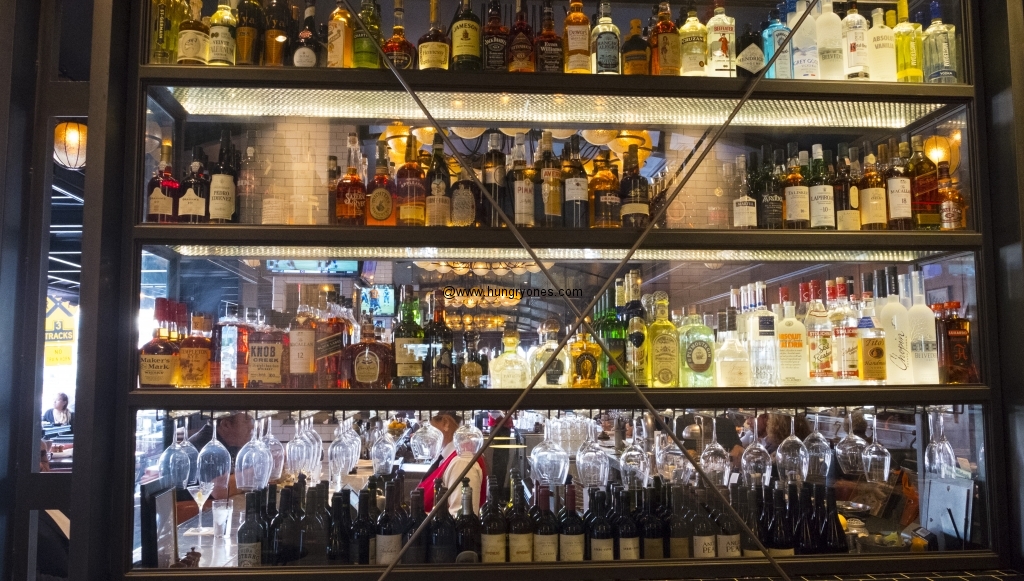 Service was exemplary.  Greeters were friendly at the beginning and the end.  Our waiter Michael answered all our questions and guided us well on our adventure.  I particularly liked his dessert suggestion.  Managers checked to see how we were doing and if we needed anything.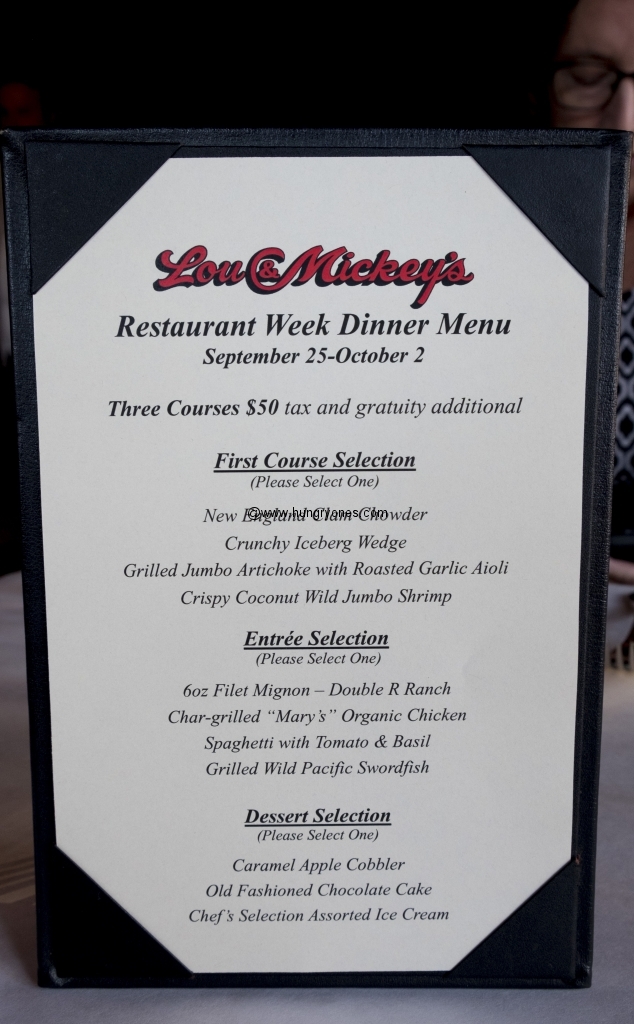 We visited at dinner for restaurant week and were offered an appetizer, entree, and dessert.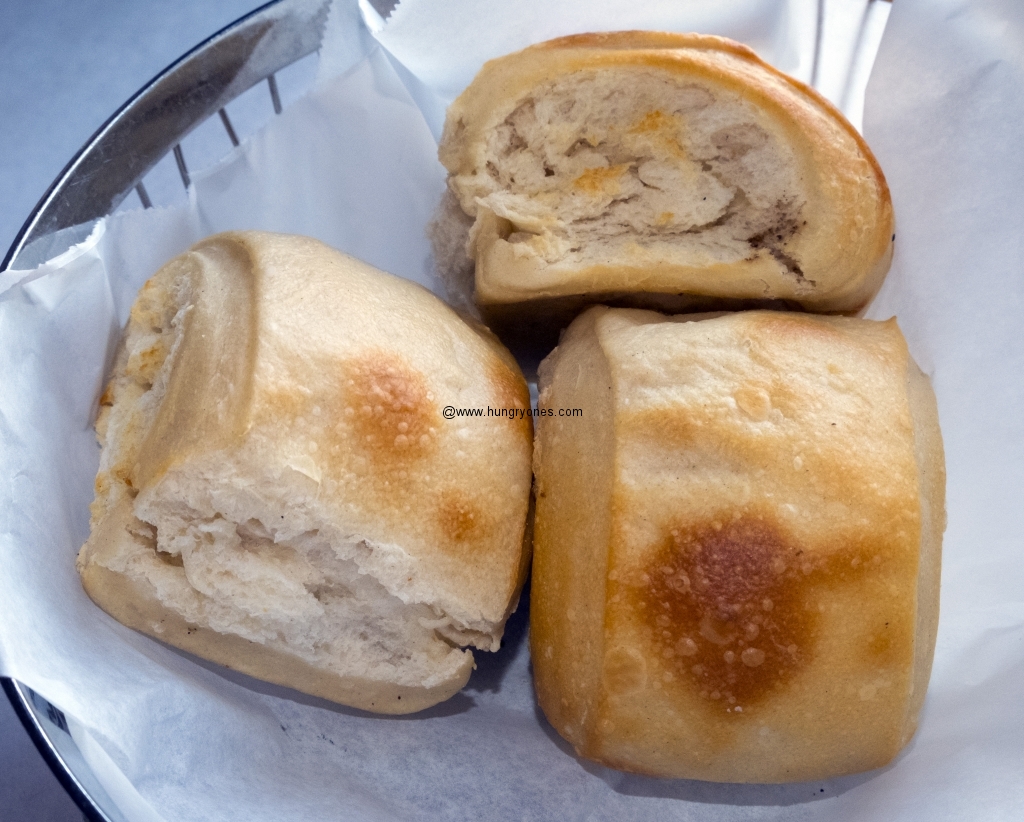 Sourdough rolls had a crunchy crust and a strong sourdough flavor.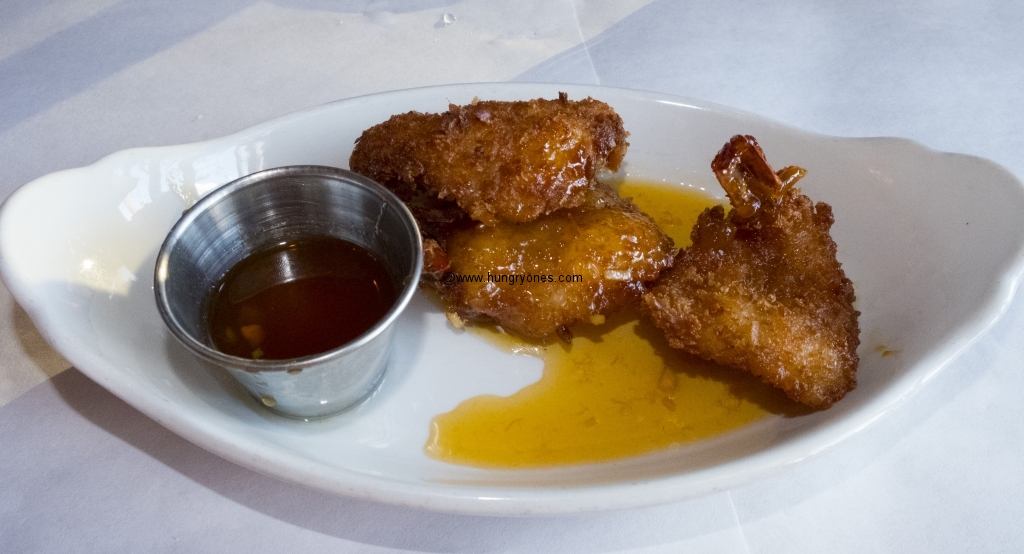 Crispy Coconut shrimp came with a sweet apricot sauce.  Nice mix of flavors from the big juicy shrimp, coconut, and apricot sauce.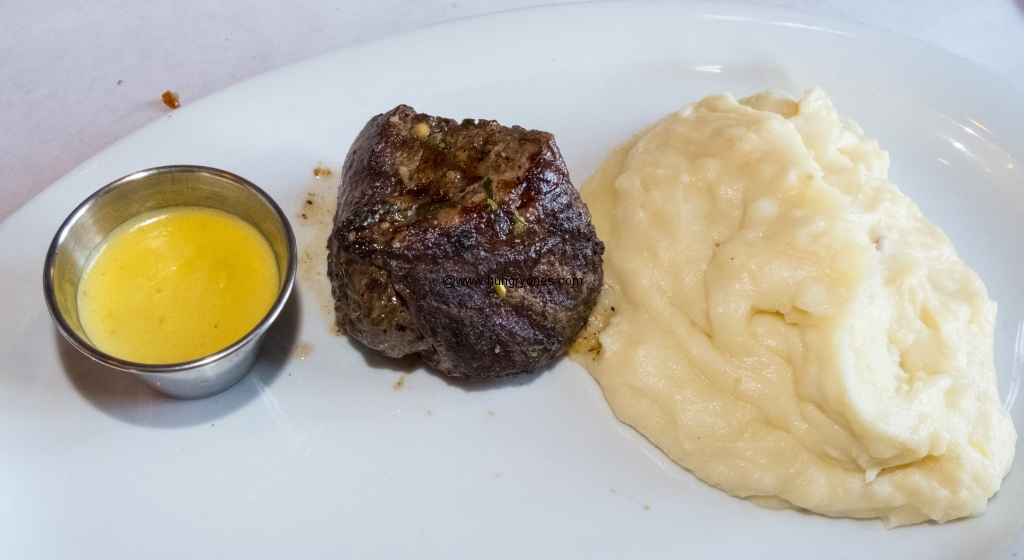 Filet mignon sourced from Double R Ranch.  Prime graded and aged for 21 days my filet was tender and had intense beef flavor.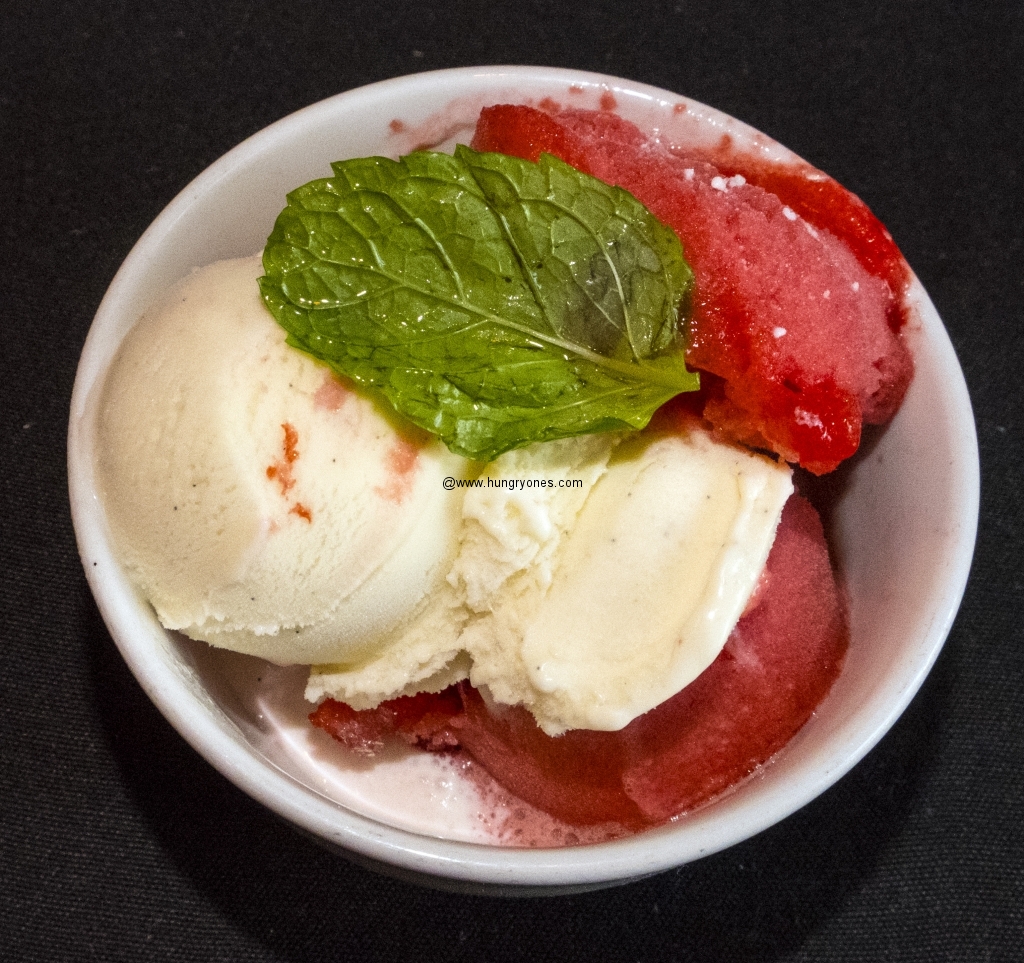 Ice cream/gelato made in their corporate kitchen.  Vanilla ice cream was rich and creamy. Black raspberry sorbet was a blast of raspberry flavor from an icy creation.  Waiter suggested I eat them together to make a creamsicle.  He was wise.  I loved the mix of texture and flavor which reminded by of those long lost days of summer cooling myself off by running through the sprinklers waiting for the ice cream man to come by.  Sweet music from the ice cream truck no longer plays on the roads I wander but I'm going to do my own experiments on making creamsicles now thanks to our waiter.
Each year I look forward to a new adventure during restaurant week as it's an opportunity to try places that normally might be above the price point I normally dine at.  This year's adventure was a great one thanks to Lou's and Mickey's.
by Soo
Disclaimer:  We were invited by McFarlane Promotions/Lou & Mickey's to preview San Diego Restaurant Week but our opinions are our own.
Lou & Mickey's
224 5th Ave
San Diego, CA 92101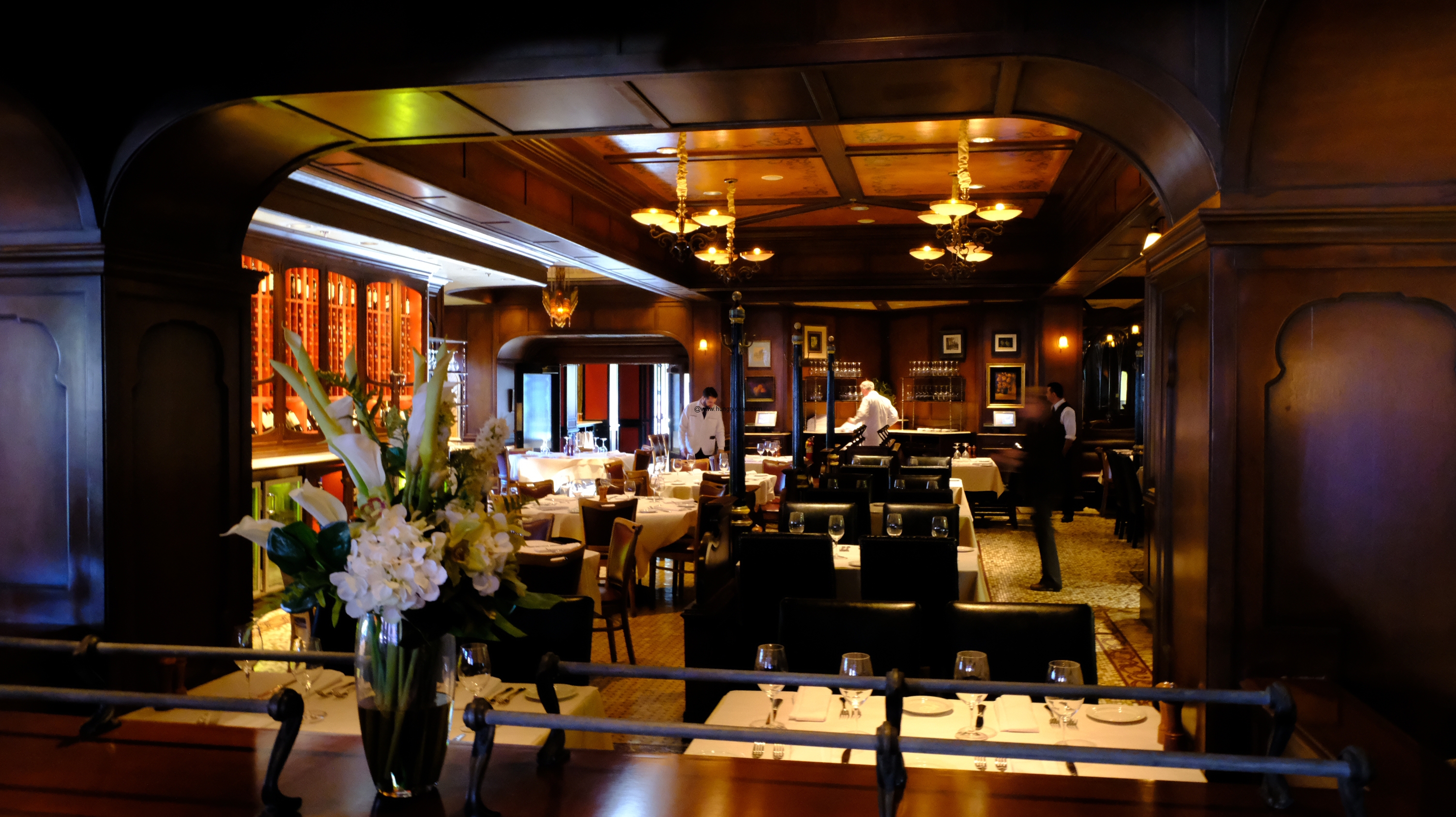 The beautiful wood paneling, lovely ceiling light fixtures, interesting artwork throughout, glass windows facing the Convention Center all make this place unique. Our table was positioned right next to the glass window so we could people watch if the need arose.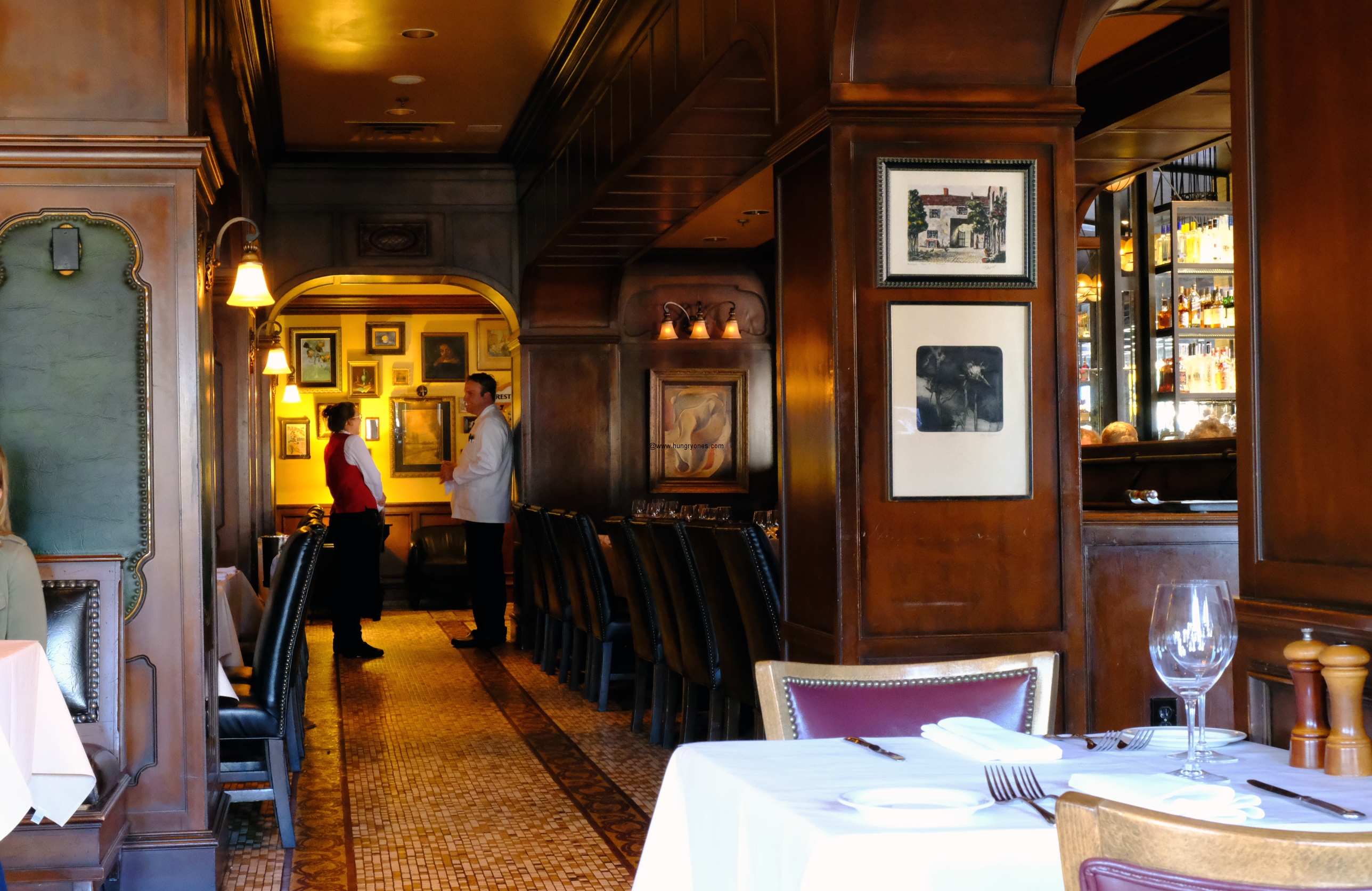 Walking in I was greeted by the sweet hostess and escorted to our table containing a small reserved card, makes you feel so special! While I was waiting for Soo to park the car, the waiter came by, placed my napkin in my lap, explained the menu and inquired about drinks. Very professional, informative, attentive and personable. It's quite apparent Lou & Mickey's knows how to take care of their customers and give plenty of reasons to come back again and again.
Once Soo arrived :>) the waiter came back, explained the menu, inquired if any questions remained and brought out the wine list. When I picked out the Dopff & Irion Cuvee' Rene' Dopff' Riesling from Alsace, France the waiter pointed out that it's a dry Riesling and not as sweet as some of them tend to be, which was great for me as I like Riesling a little less sweet anyways.
First course sourdough bread rolls with fresh butter and grilled Artichoke with roasted garlic Aioli. The Artichoke was very tender and the Aioli paired very nicely. Decided on the Wild Pacific Swordfish with grilled squash and broccoli. The marinade and light sauce on the Swordfish was delightful and added to the overall flavor, excellent!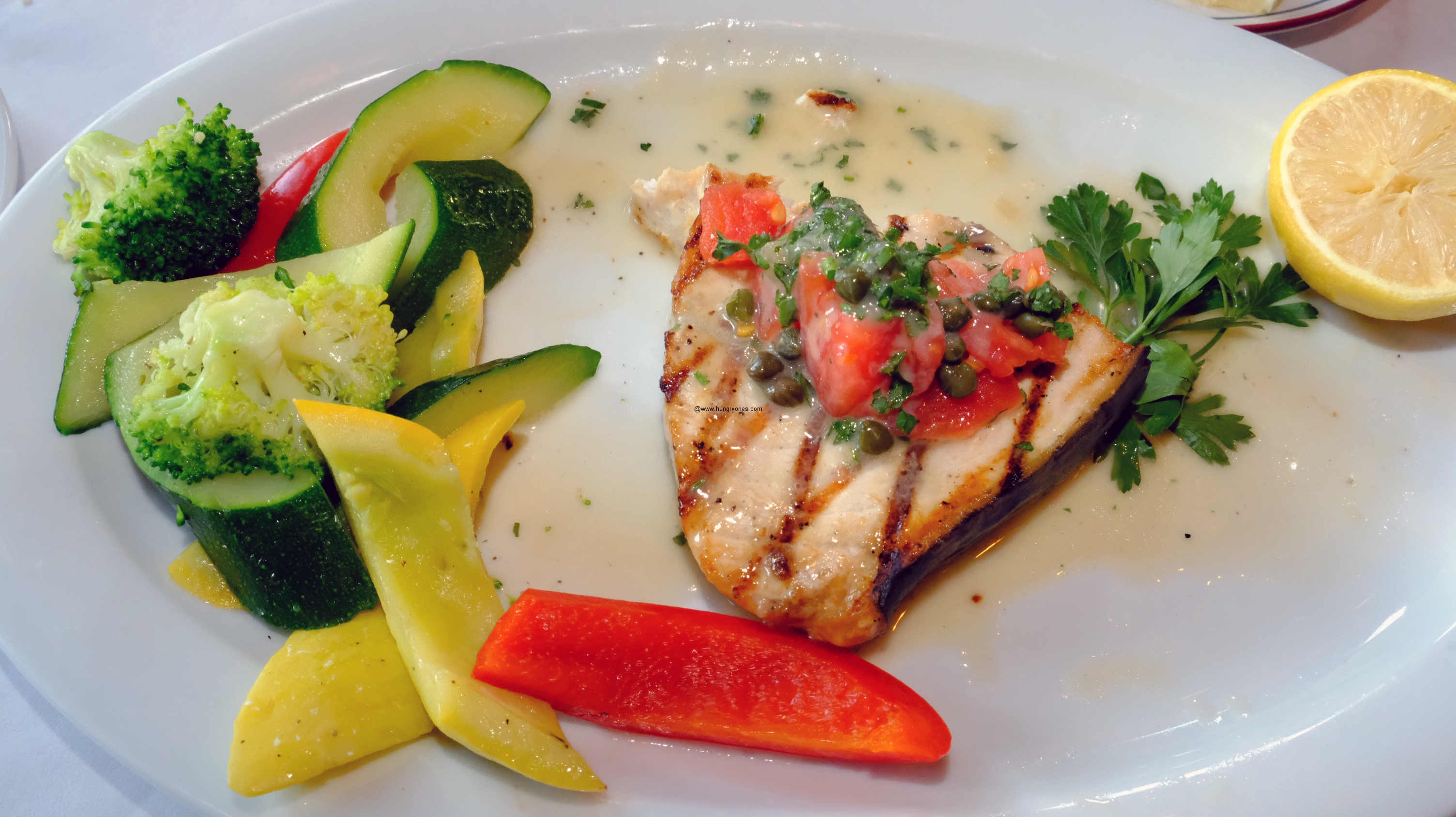 For Dessert the chocolate cake made with chocolate liquor, comes with whipped cream and strawberries. Plus you could add a scoop of ice cream along with. This was one of the very best pieces of Chocolate Cake I've ever had! Perfect balance of chocolate flavors and frosting.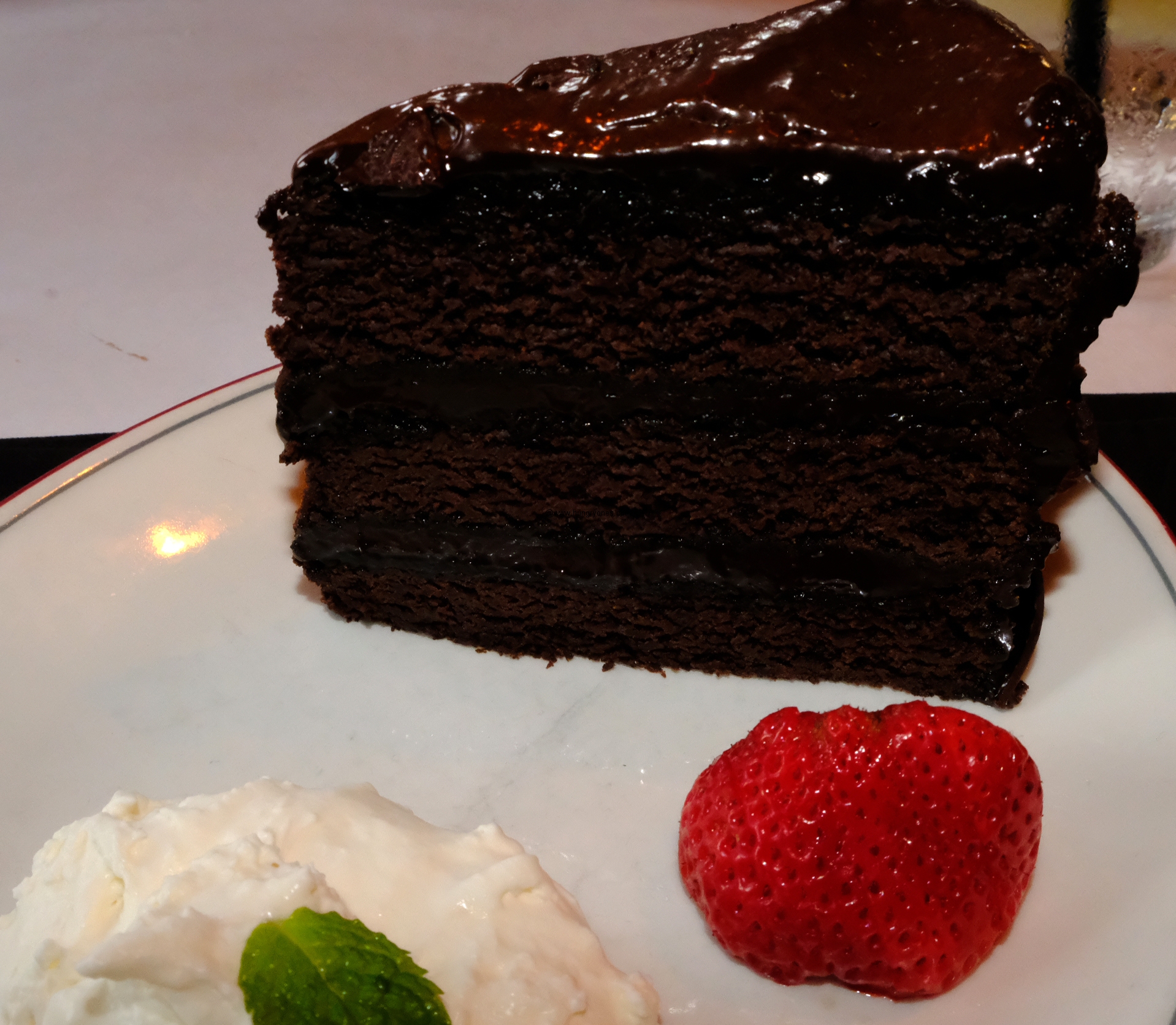 By Maggie