THE Best Halloween party I've ever been to! Yelp sure knows how to throw an awesome event!

Standing in line, checking out all the costumes….love Michael Jackson dressed up in his Thiller outfit, Minions are just so cute, love the goggles! Whilst entering we came upon a libation booth with hands coming forth holding the much sought after Yelp shot glass, filled with a sweet concoction. Ears were met with the up beat music and a plethora of food booths. So many booths so little time! My favorite donut was the crème filled pumpkin flavor from Donut Bar and my favorite bite was Funky Fries & Burgers Hawaiian roll filled with barbeque pork, yummy! The hazelnut gelato from Gelato Paradiso was to die for.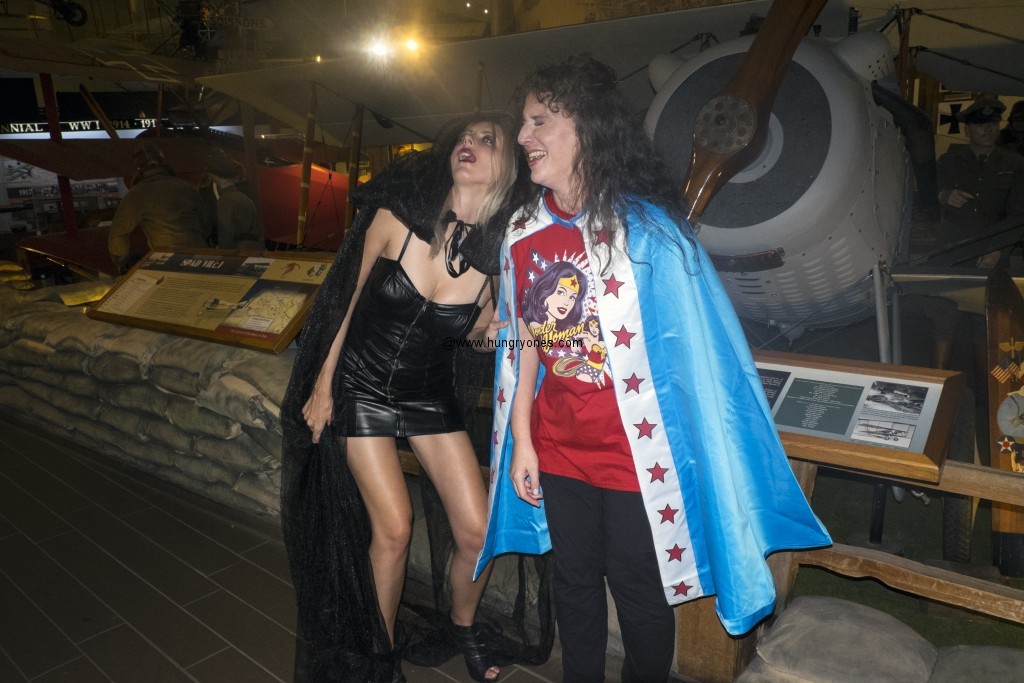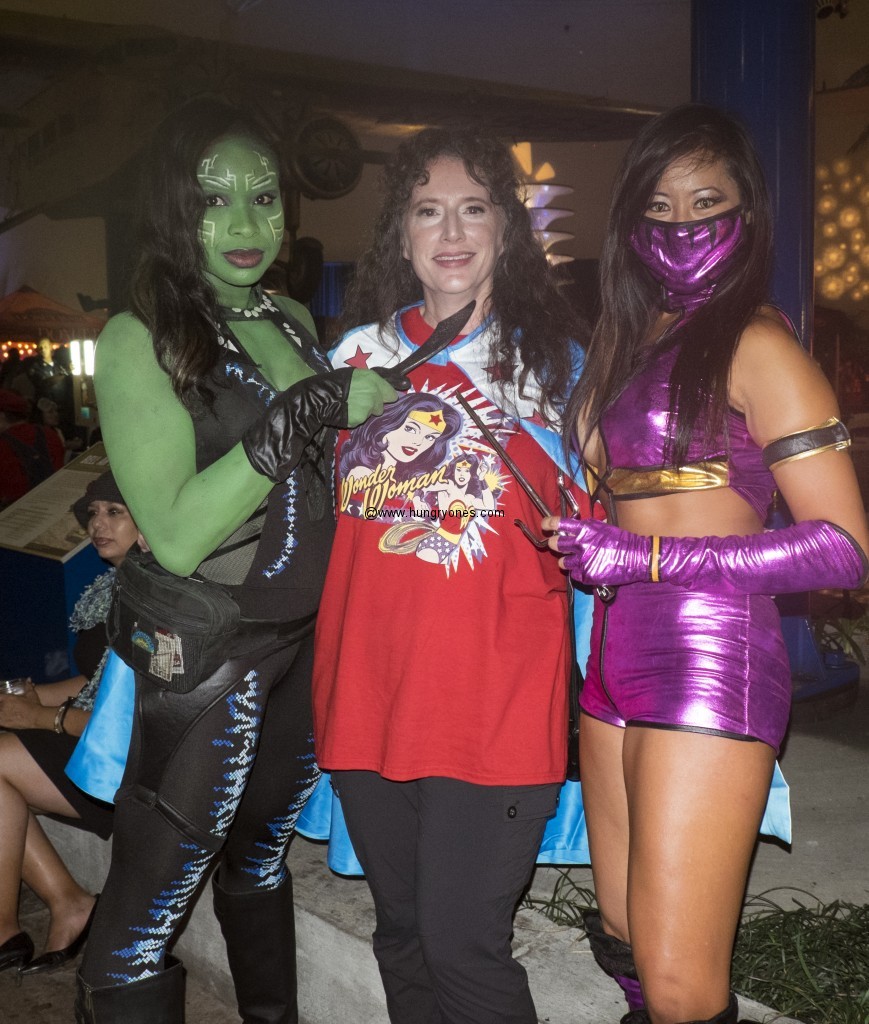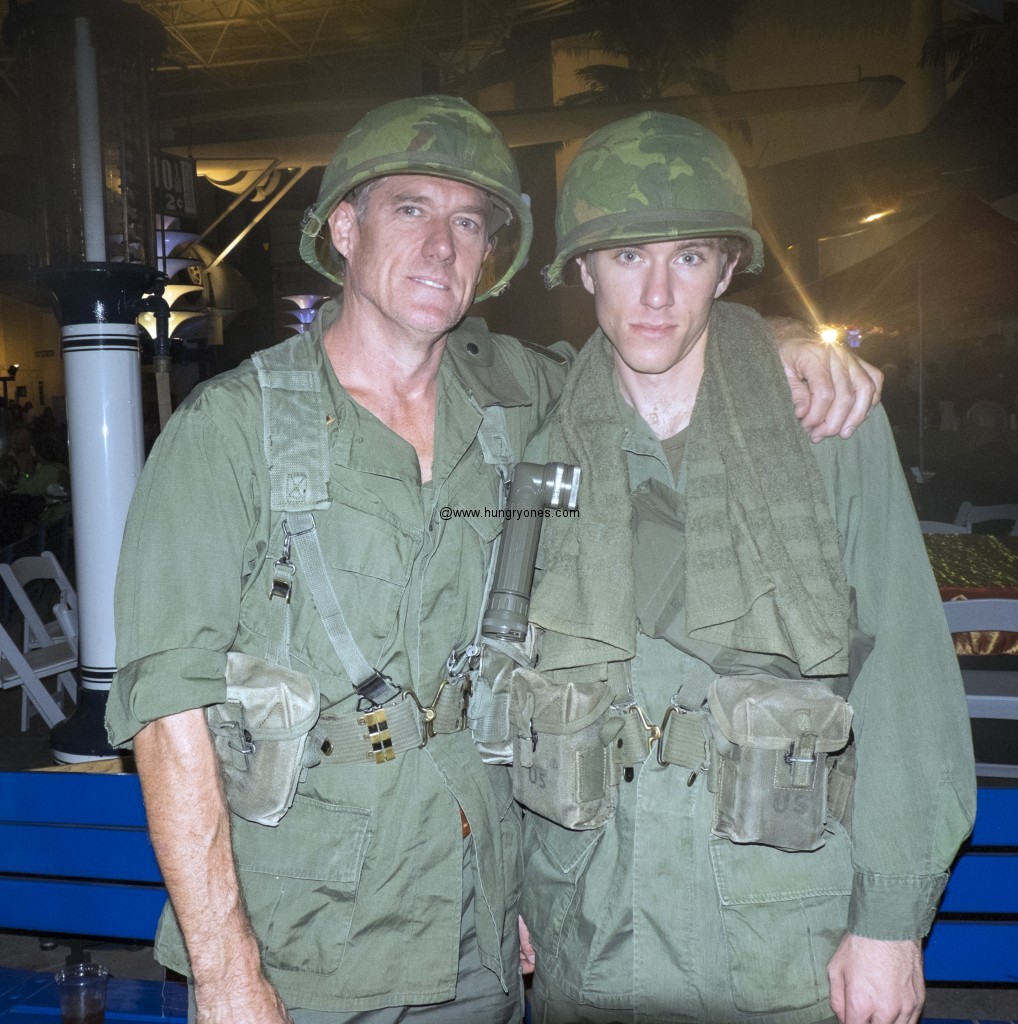 More costume favorites; the marine fatigue duo (they looked like the real thing) dancing Cookie Monster holding a plate of chocolate chip cookies, the bad ass green skin lady Gamora, Vampire lady with her Swedish counterpart (Elle and Bret), pirate Lady (Lynn) and gold flapper girl. Went for a sit up massage (Massage Envy) twice because it was really helpful and the ladies were so nice!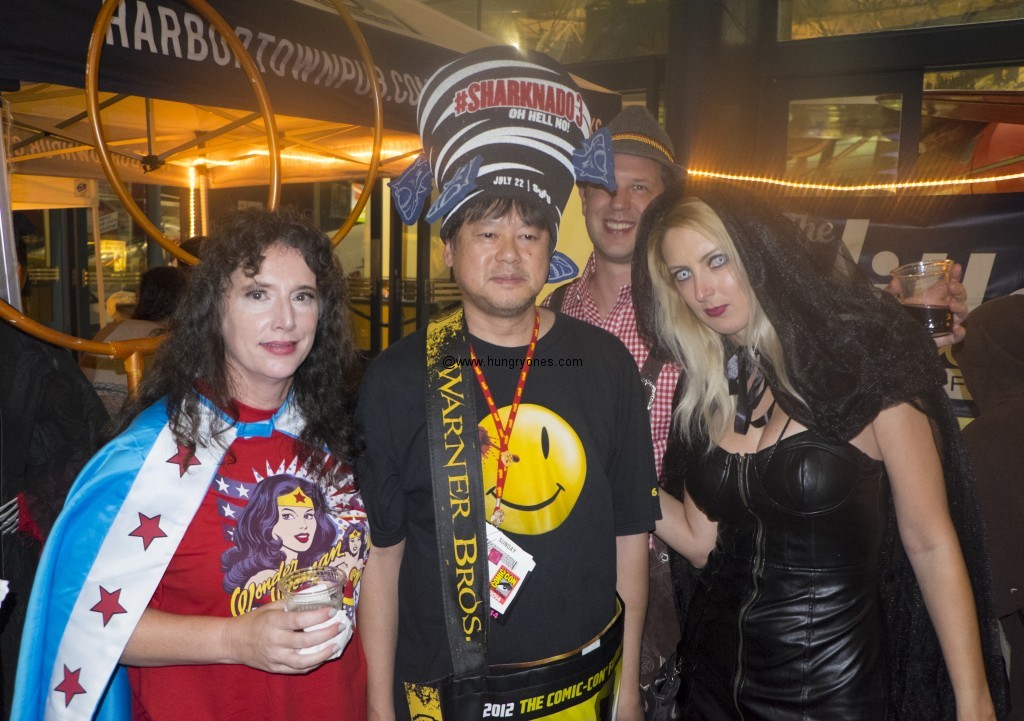 Toured a bit of the museum, it's been awhile since I've frequented so stand out's for me are; the Leonardo Da Vinci The Ultimate Innovator special exhibition. Love, love, love his paintings and recreations of his numerous inventions. The hang glider is my favorite. We didn't get to see the whole exhibition, so darn guess well have to come back! The modest size 3D/4/D movie theater included a very realistic flight simulator, so you felt like your in the cockpit. Found a replica of  The Red Baron complete with Snoopy! So cool. One of my all time favorite pilots is Amelia Earhart because she was the first woman to fly solo across the Atlantic and set several woman's speed and distance records flying a Vega.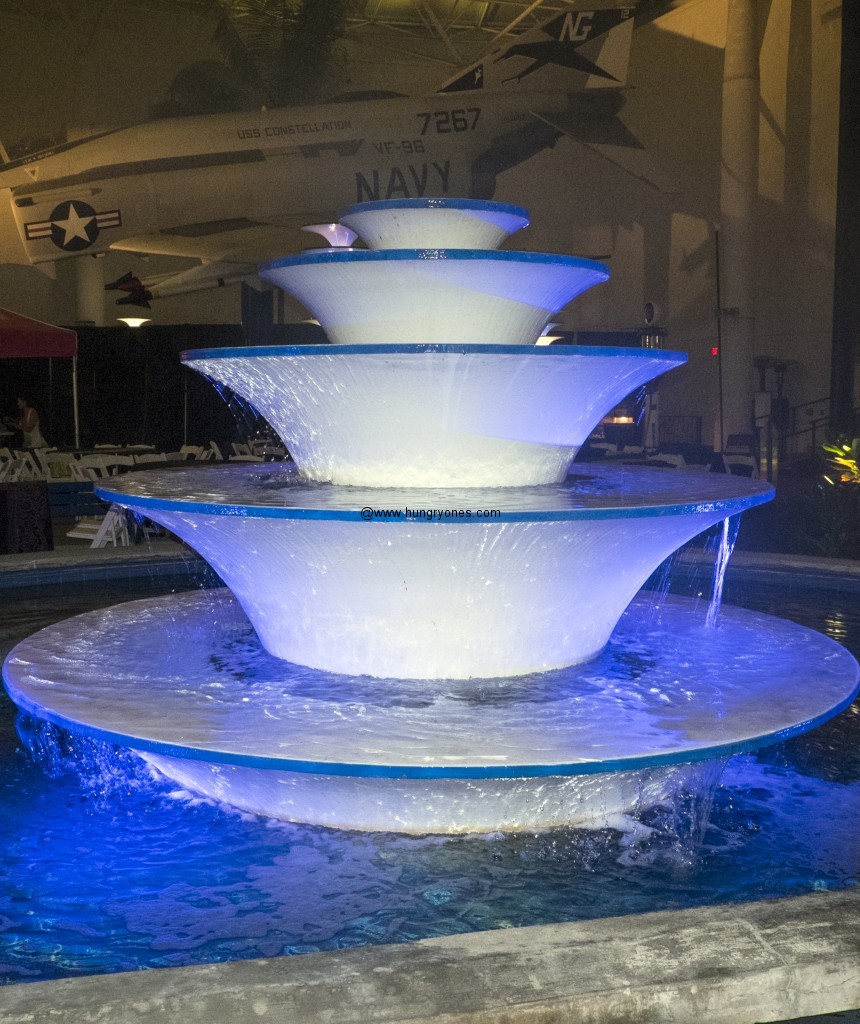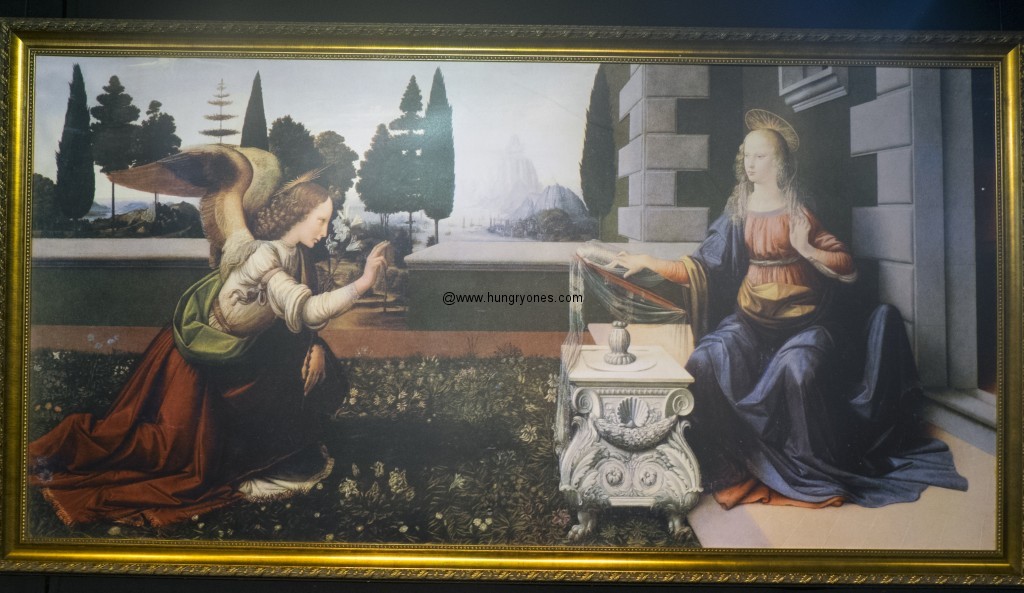 Accompanied by my comic con BF and pirate lady Lynn we really had a fun time. Kept coming back to the food booths to try and sample everything at least once. On the way out we were given choices on what sandwich's to take with us, nice! More food highlights; bacon wrapped cinnamon roll on a stick, beef burger from Slaters 50/50 was excellent, pork sliders from Water Front, very tender, moist and flavorful, had two of those.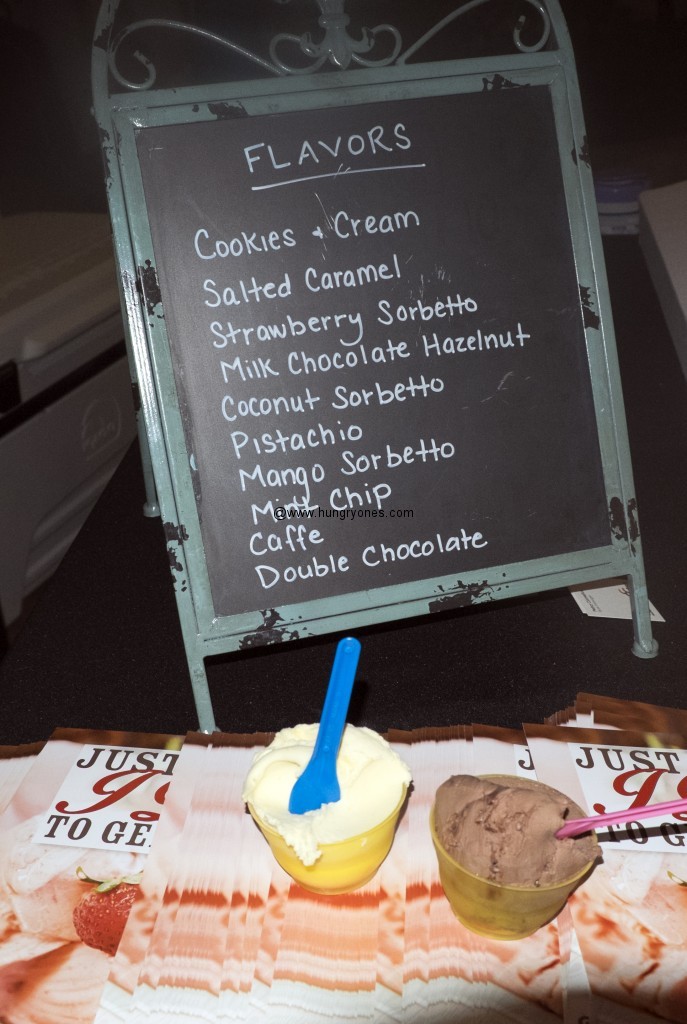 In 2006 the Museum's name changed to San Diego Air & Space Museum to better reflect its mission and collection. In 1986 the Museum became the first aero-themed museum to be accredited by the American Association of Museums, and it is now a Smithsonian affiliate. The California Legislature voted to declare the Museum "California's official Air and Space Museum and Education Center. Because of San Diego's contributions to aviation and aerospace history and technology, it is only fitting that the Museum is now recognized as one of the country's premier aerospace museums. SDASM
by Maggie
Hermes:  Imagination is just what others use to get things they can't understand into their heads. Rarely – if ever – do they actually fit there.
Brian Azzarello – Wonder Woman, Vol. 1: Blood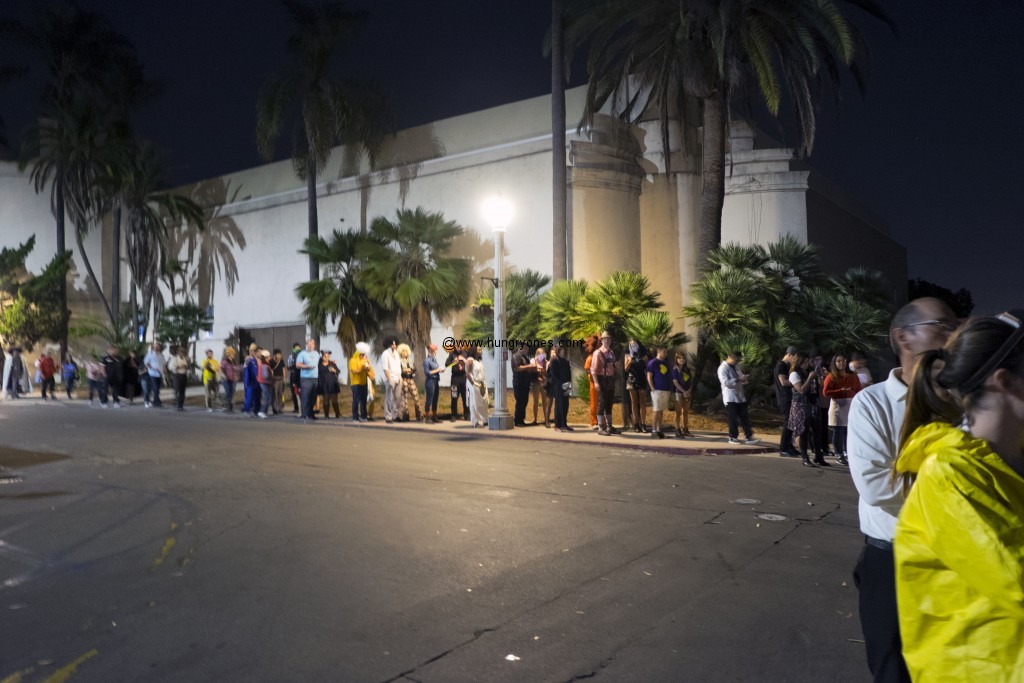 I'm gonna let you in on a secret.  I've had a crush on Wonder Woman since I first saw Lynda Carter tie bad guys up with her magic lasso.  I have been bad too.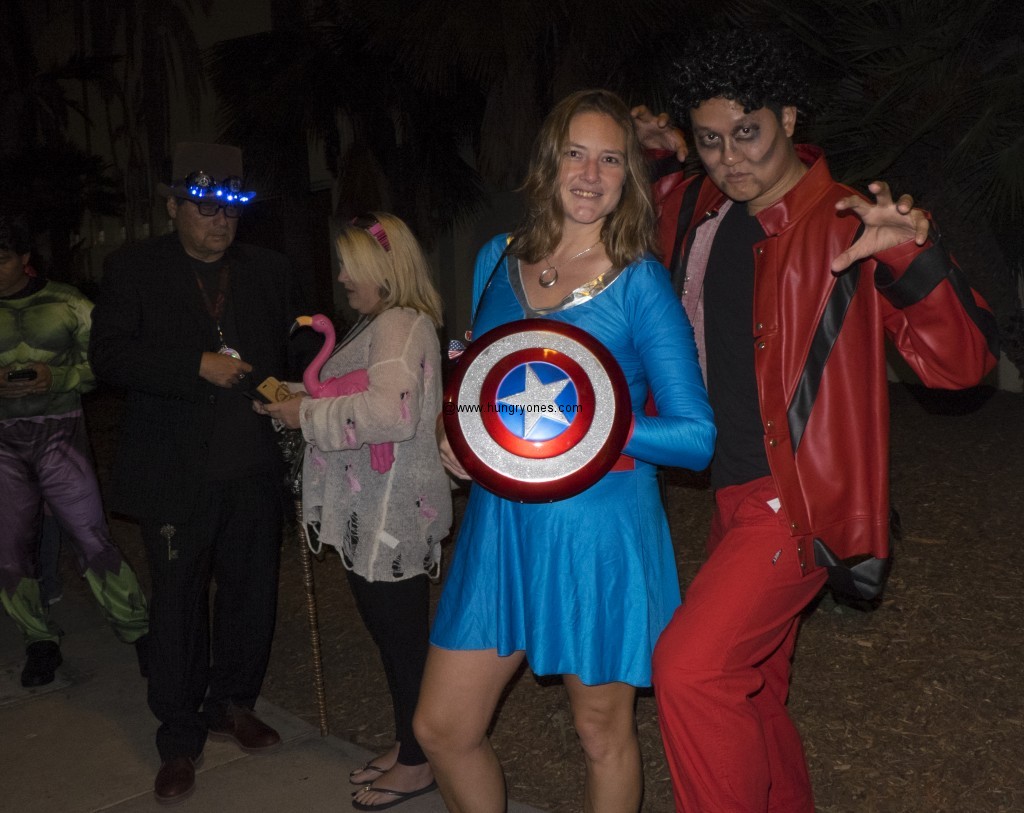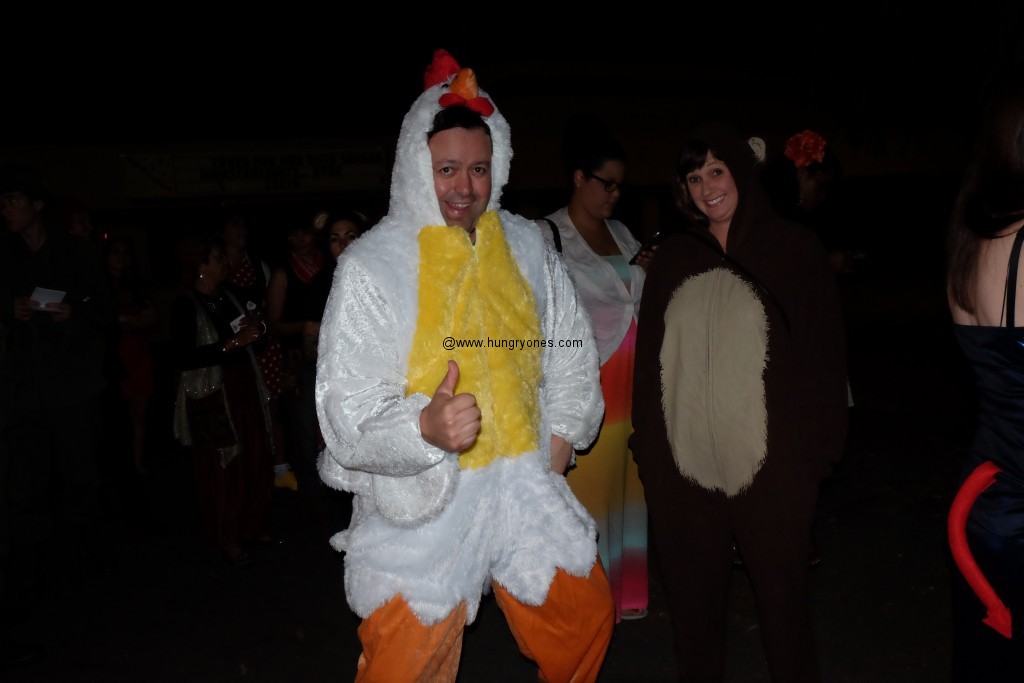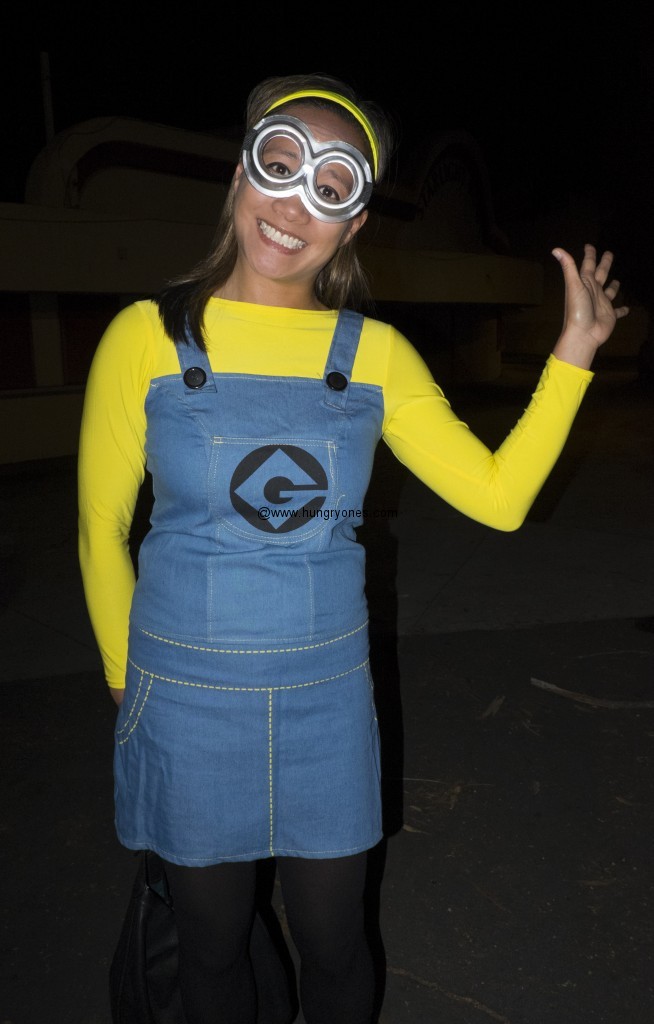 I was thrilled to find out I would be going to this Yelp event with Wonder Woman!  Line to get in wasn't too bad and I took photos to prove I was with the woman of my dreams.  Lots of awesome costumes this night.  I sampled a ton of excellent food.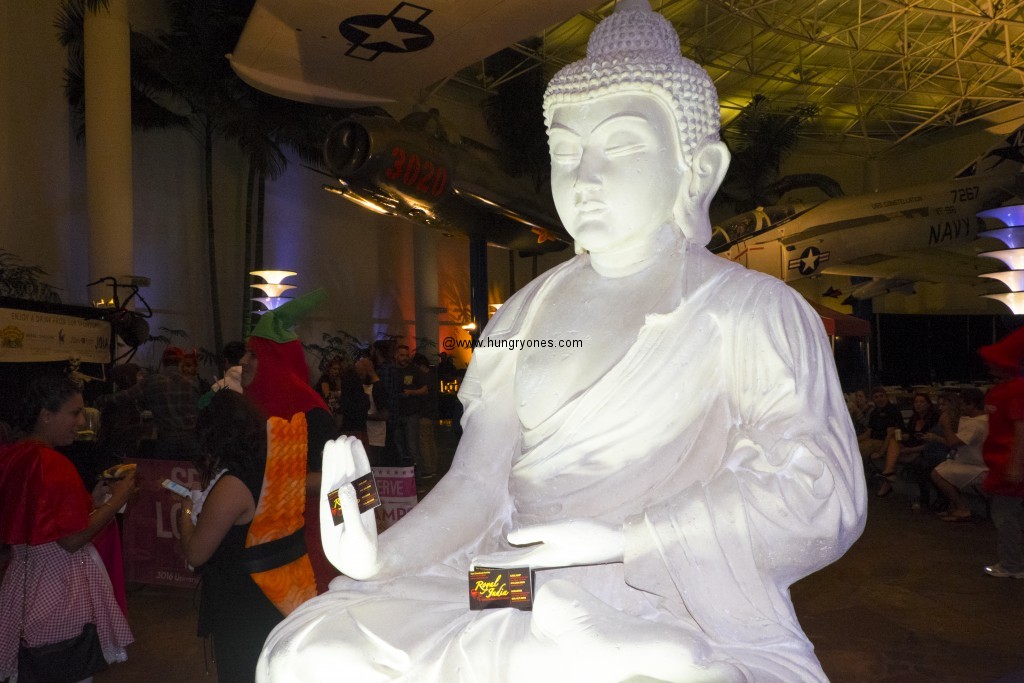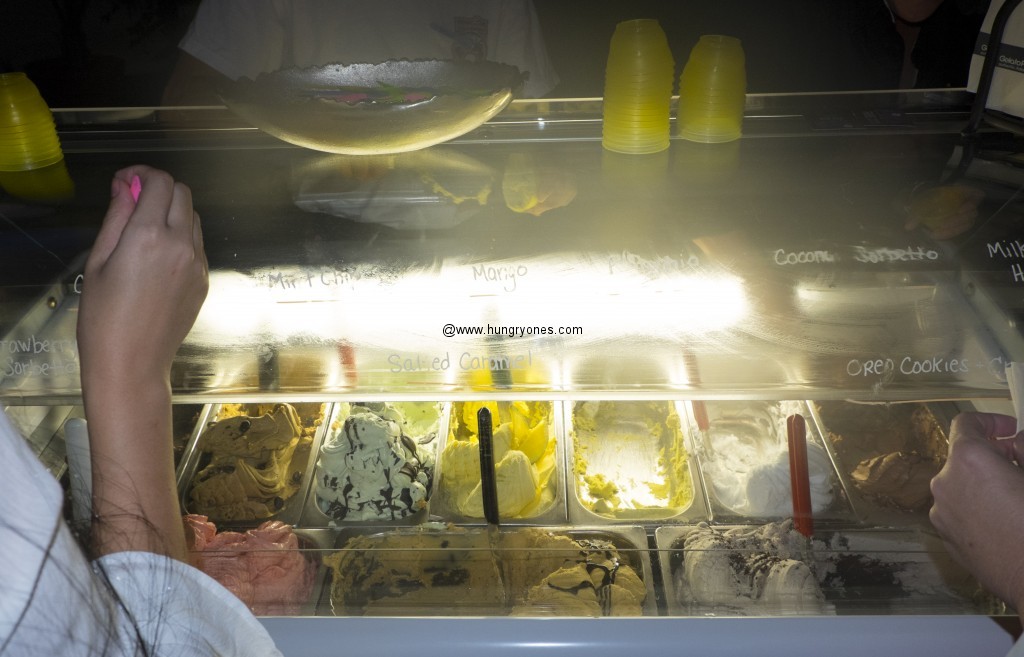 Gelato Paradisio – gelato was cold with a smooth yet icy texture, delicious mango flavor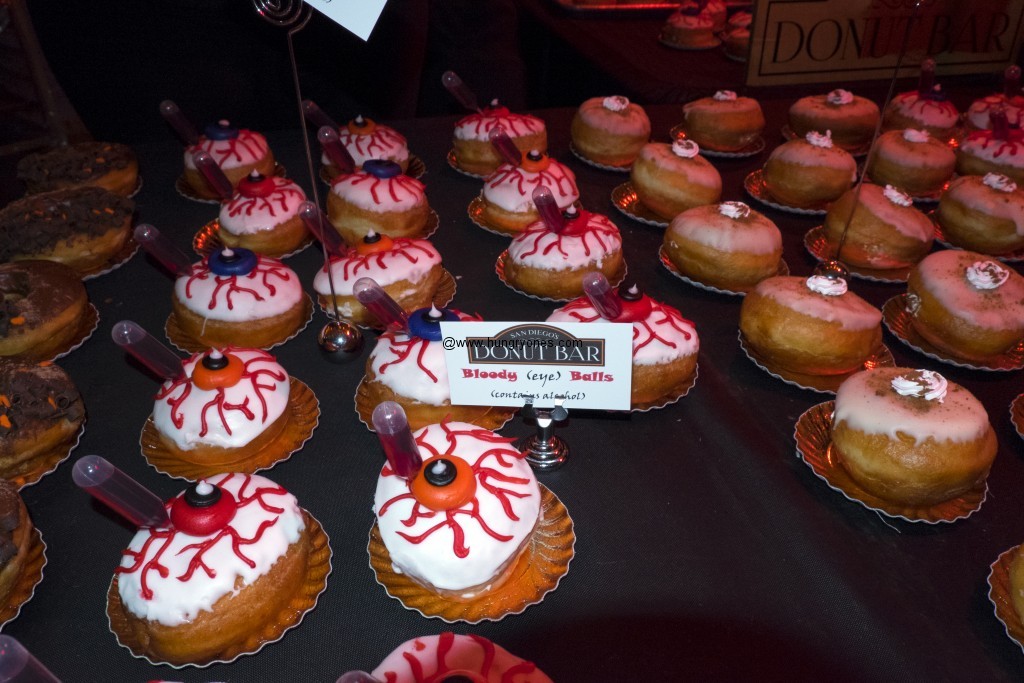 Donut Bar – pumpkin donut was a big fluffy yeast based donut with a sweet sugar glaze and delicious pumpkin flavor.  Like a supercharged glazed donut from Donut Touch.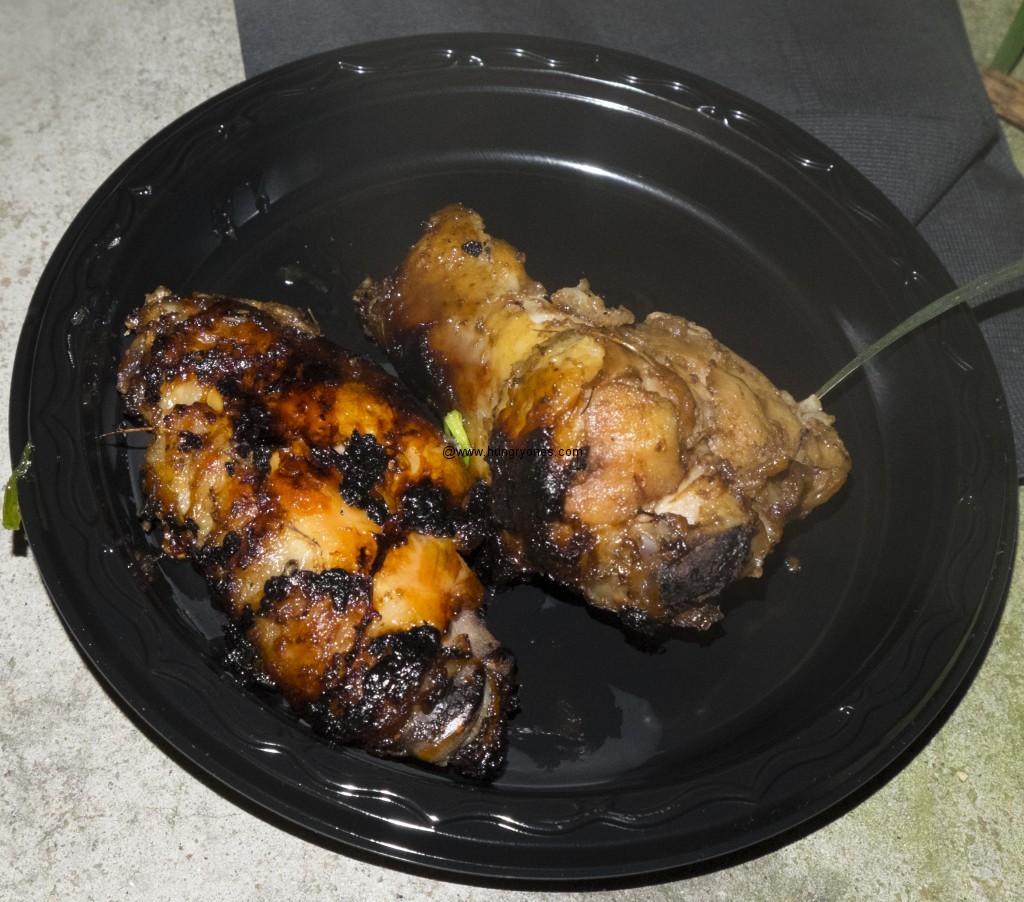 Harbor Town – soy ginger wings were tender, juicy, and had delicious flavor from the marinade.  Tasted just like the soy ginger wings from Werewolf.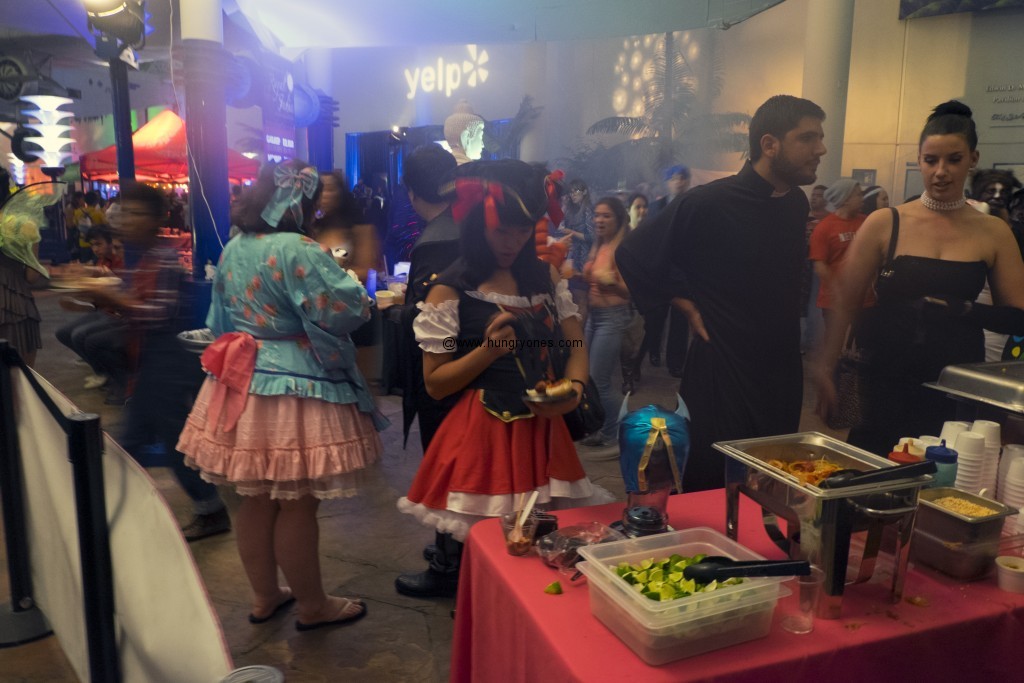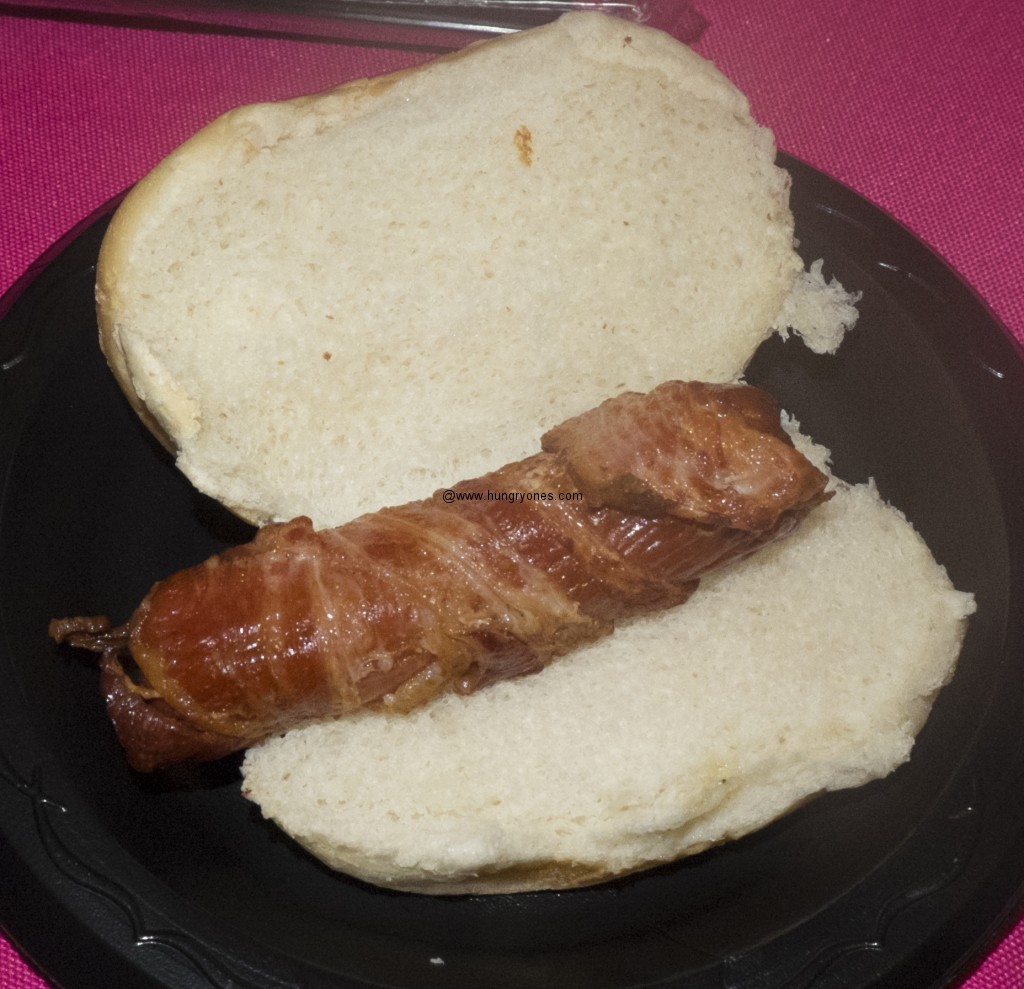 Lucha Libre – very cool spin to win contest where I won sunglasses!  Bacon wrapped hot dog was a little to salty for me.  Hebrew National dogs are the perfect saltiness for me.
Slater's 50/50 – meat patty with half bacon was delicious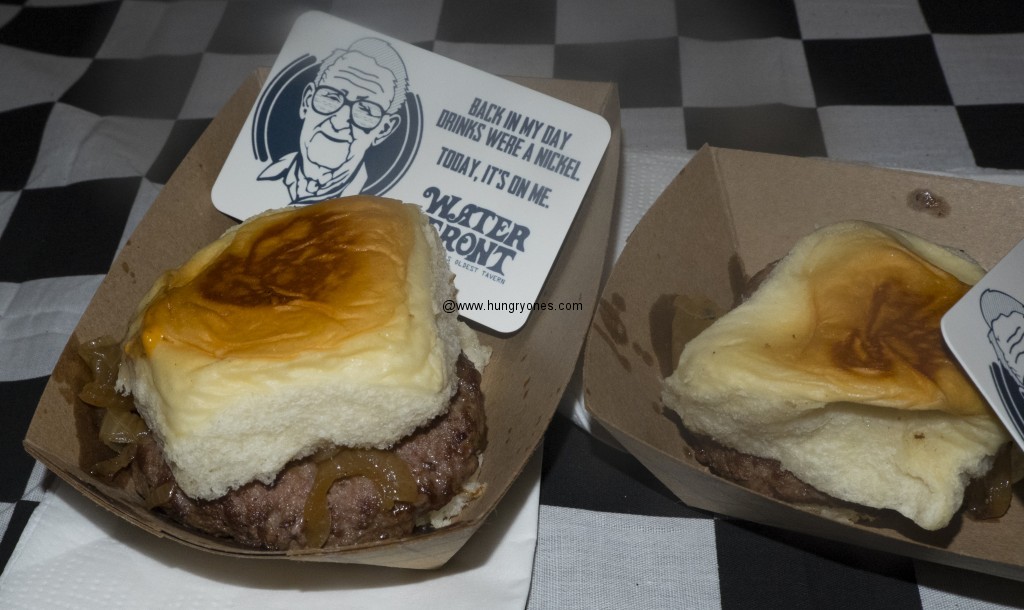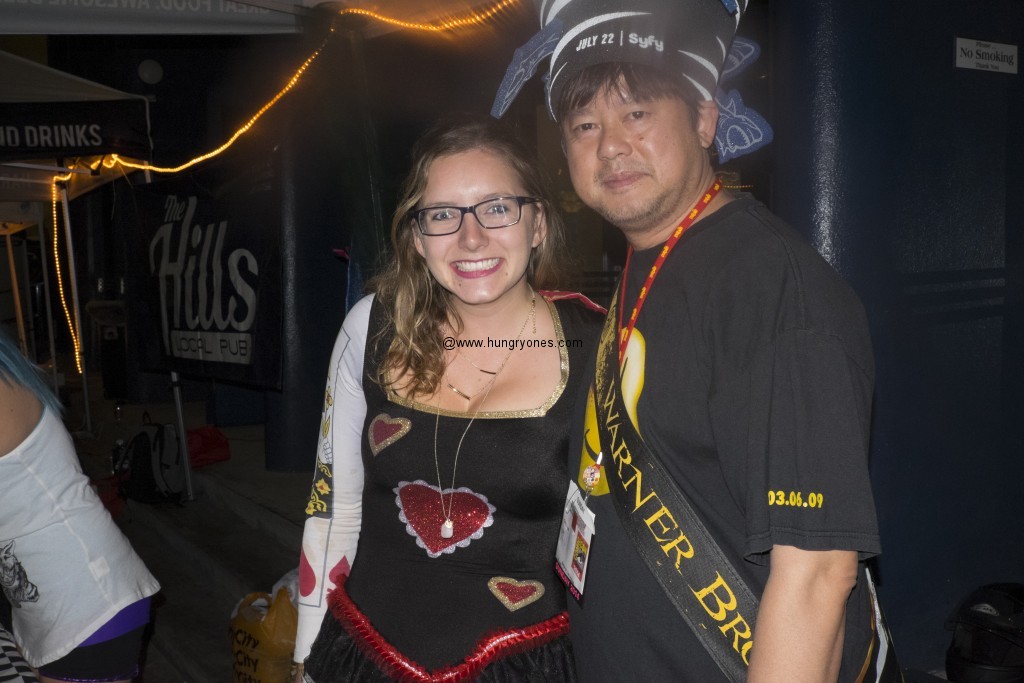 Waterfront – slider came on a dinner roll.  Delicious combination of perfectly seasoned beef patty and neutral roll.  The nicest waitress from Waterfront was serving.  She remember my visit from the beginning of the year.  🙂
Sausage & Meat – sausage had big bold flavor with a bit of spice.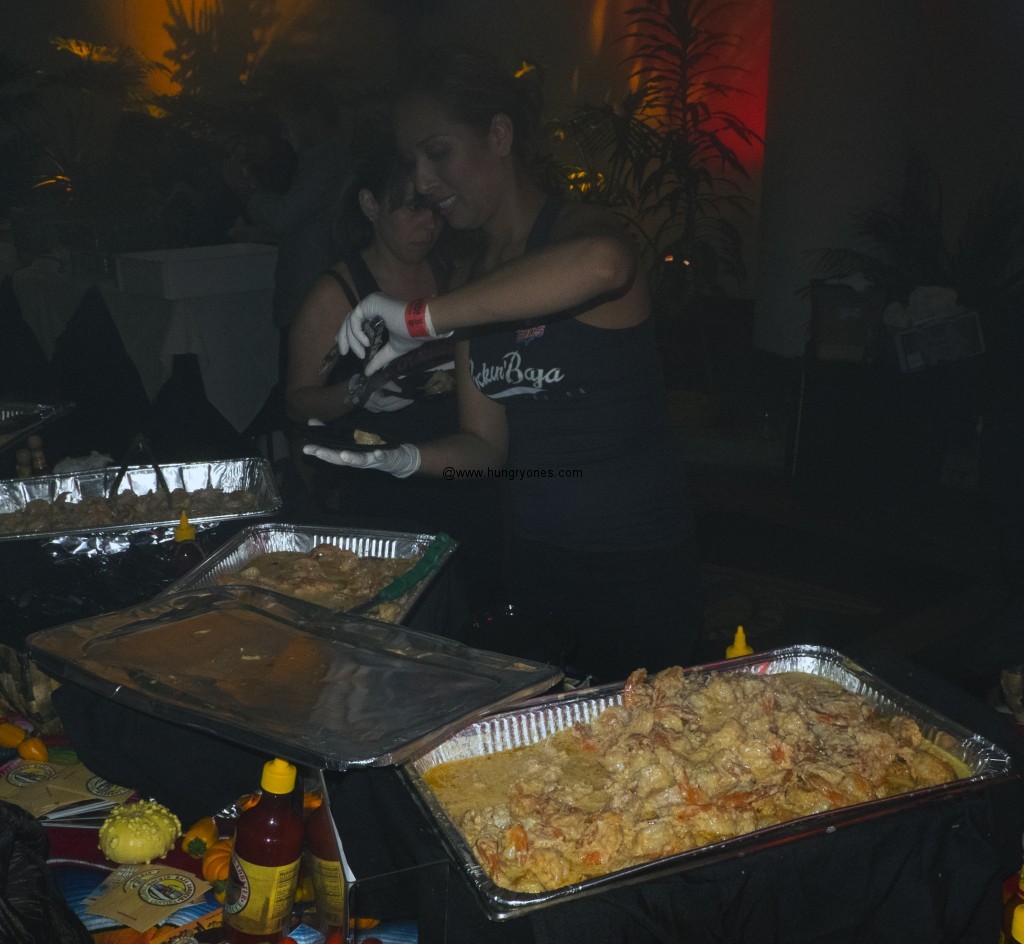 Rockin' Baja Lobster – tequila lime shrimp had a nice fresh crunch with each bite and delicious flavor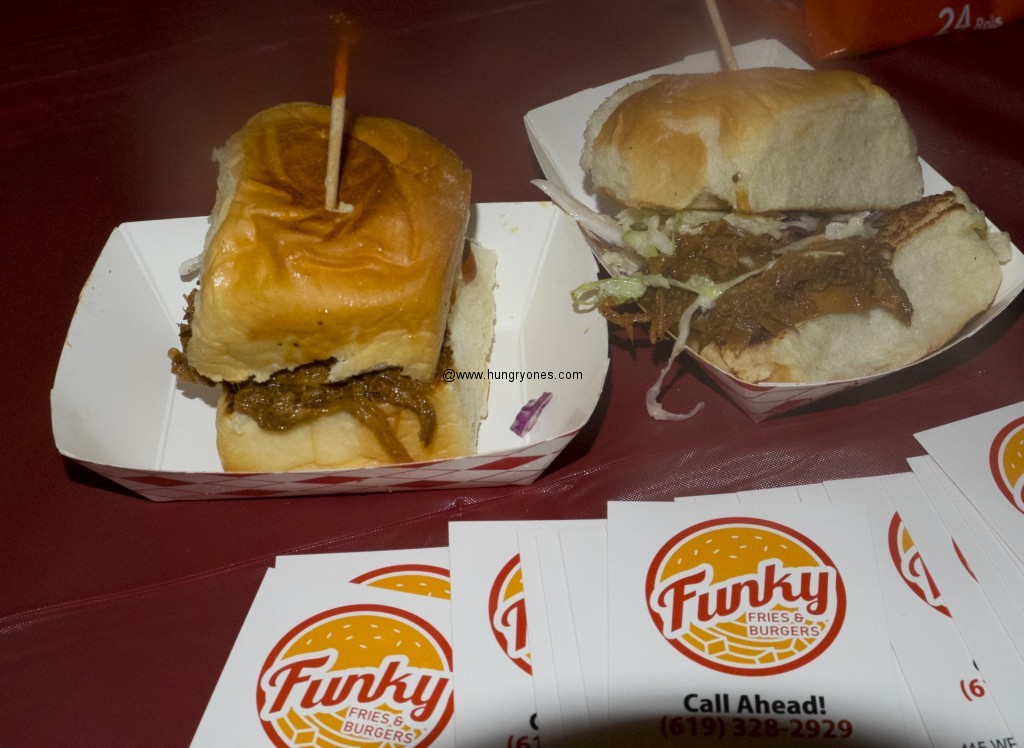 Funky Fries & Burger – bbq pork on a Hawaiian roll had sweet and tangy flavors.  Very tasty.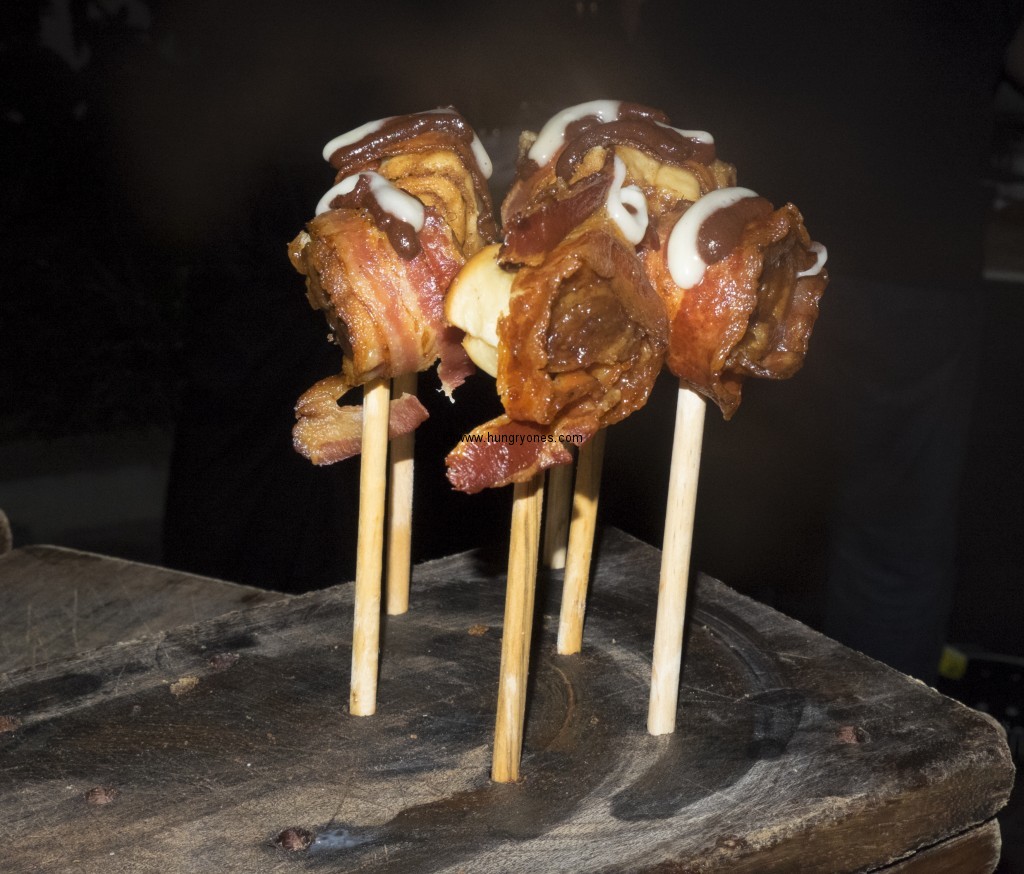 Barleymash – delicious bacon with a sweet cinnamon roll.  Genius!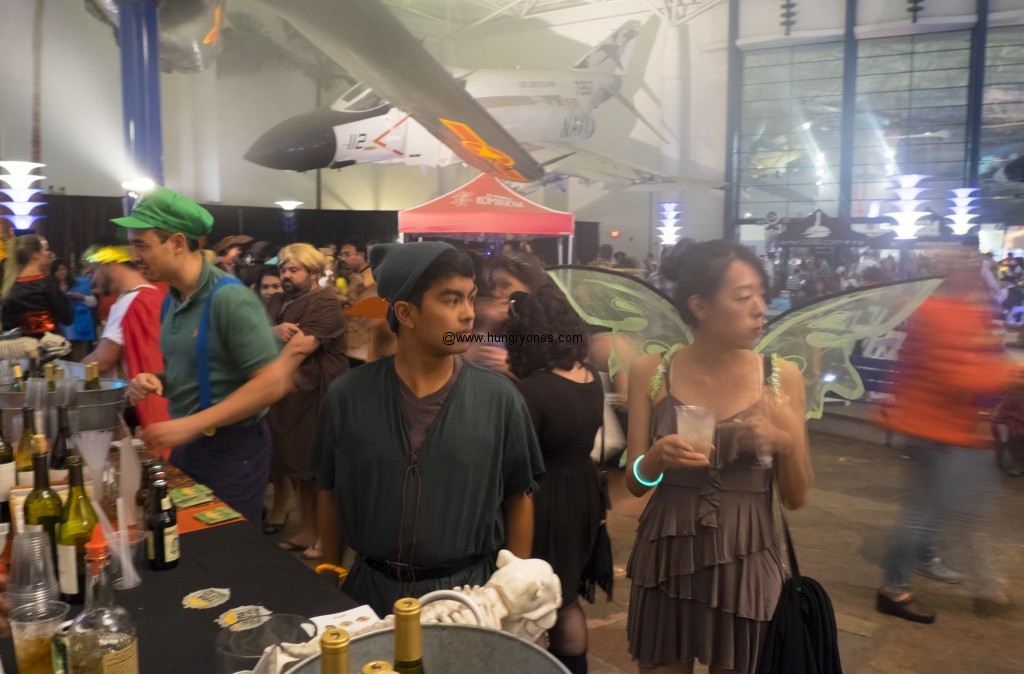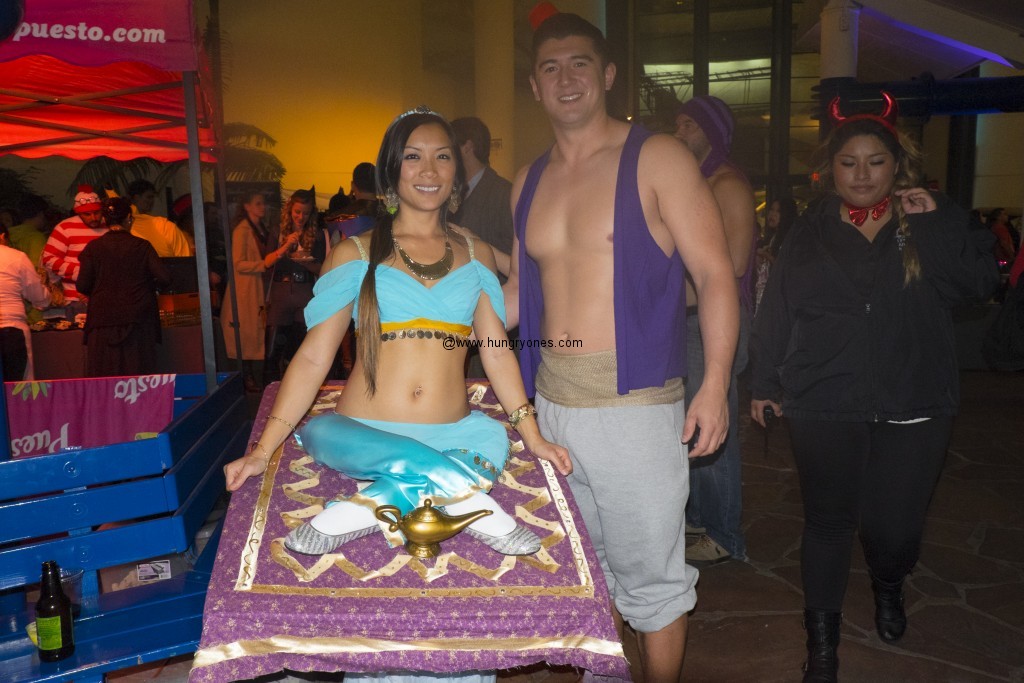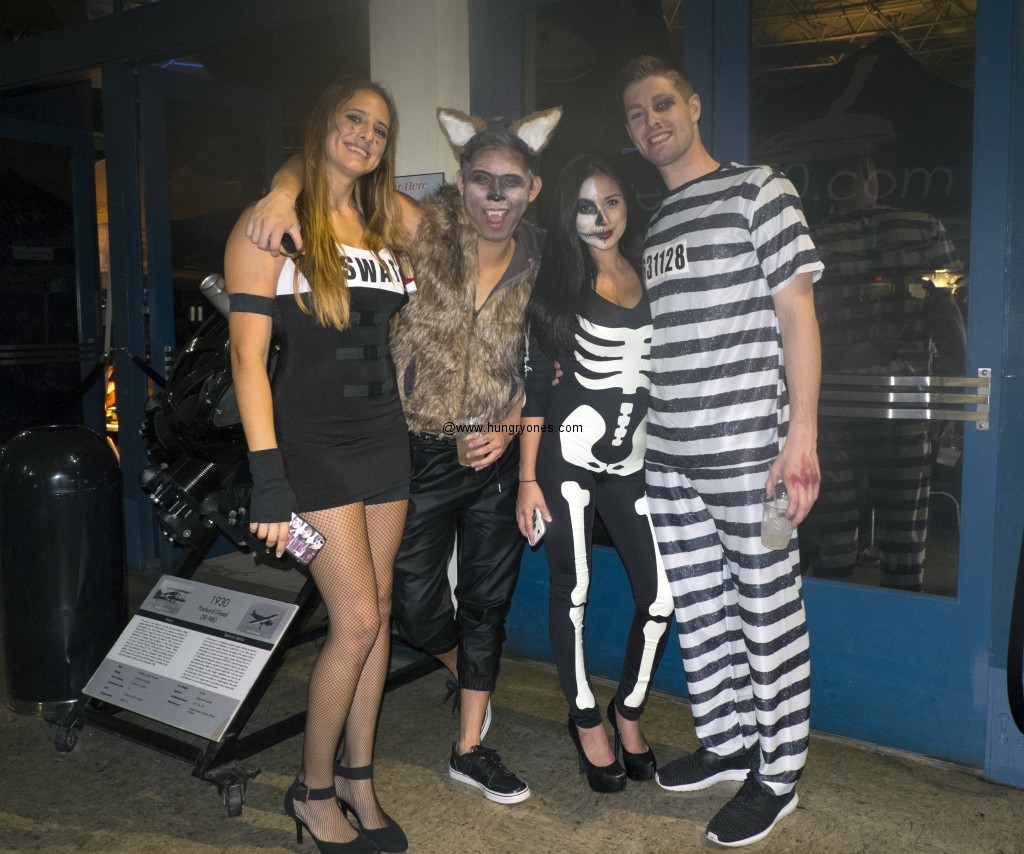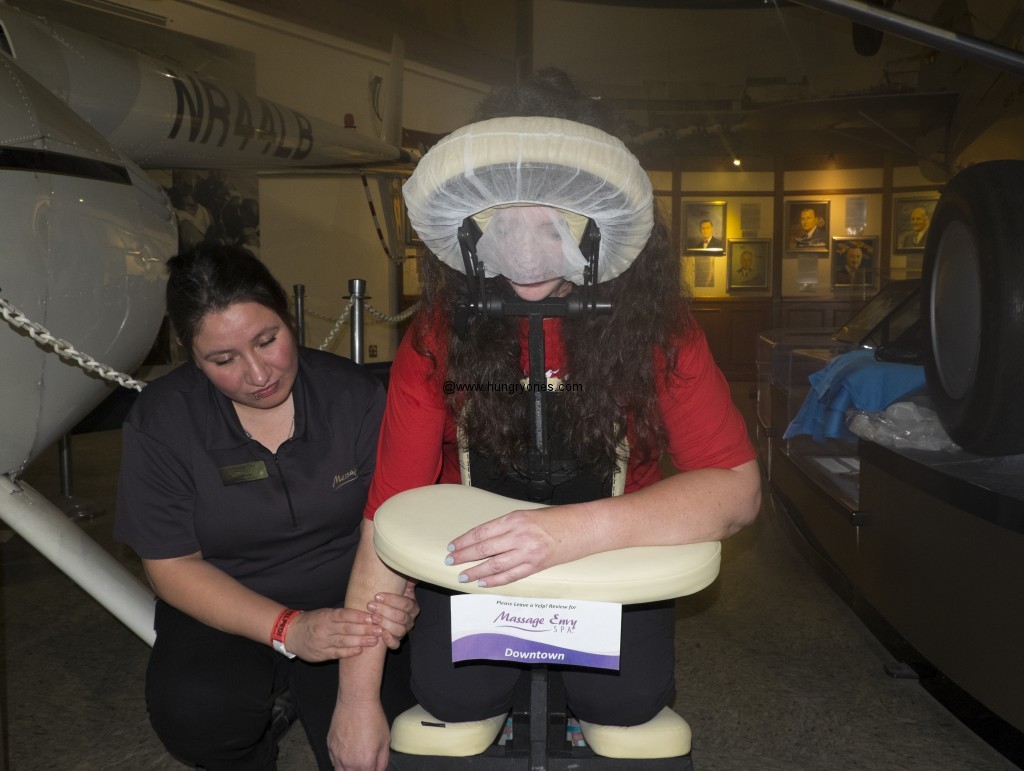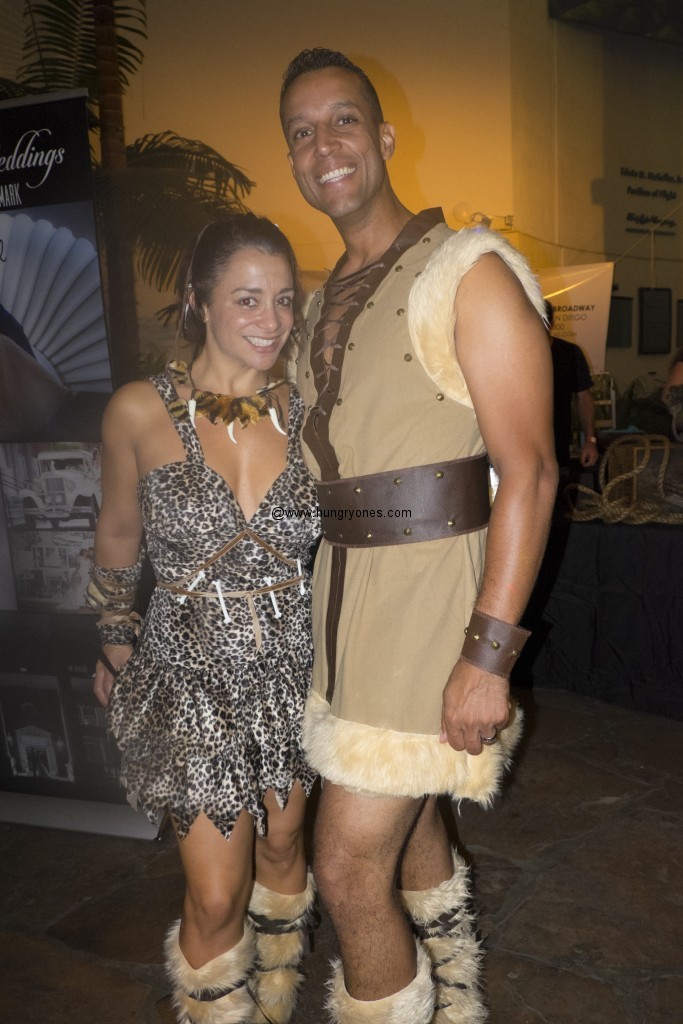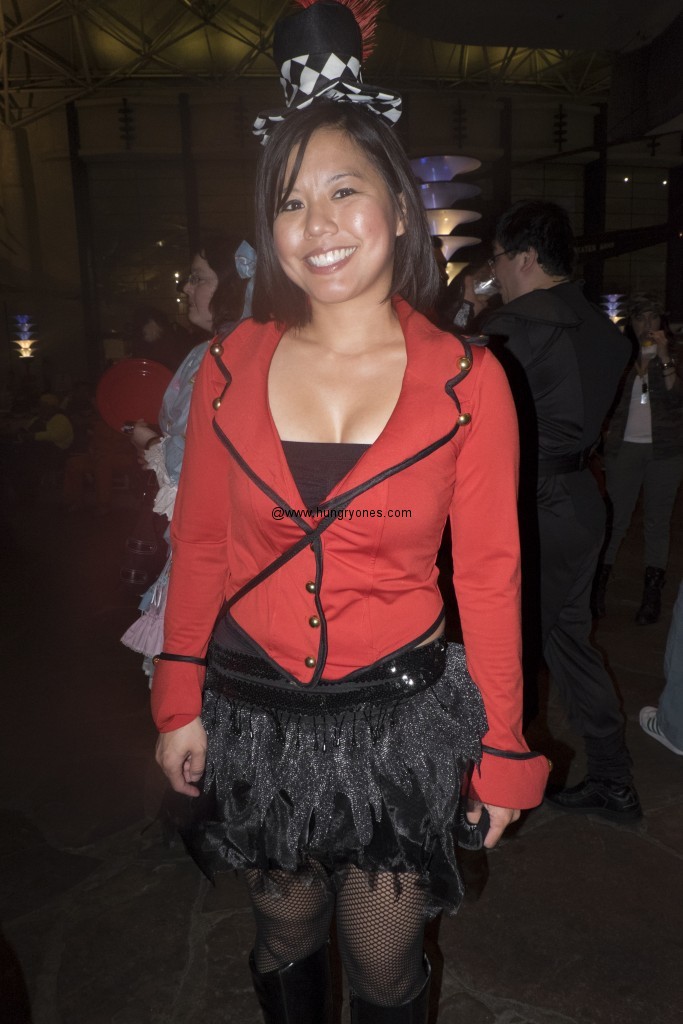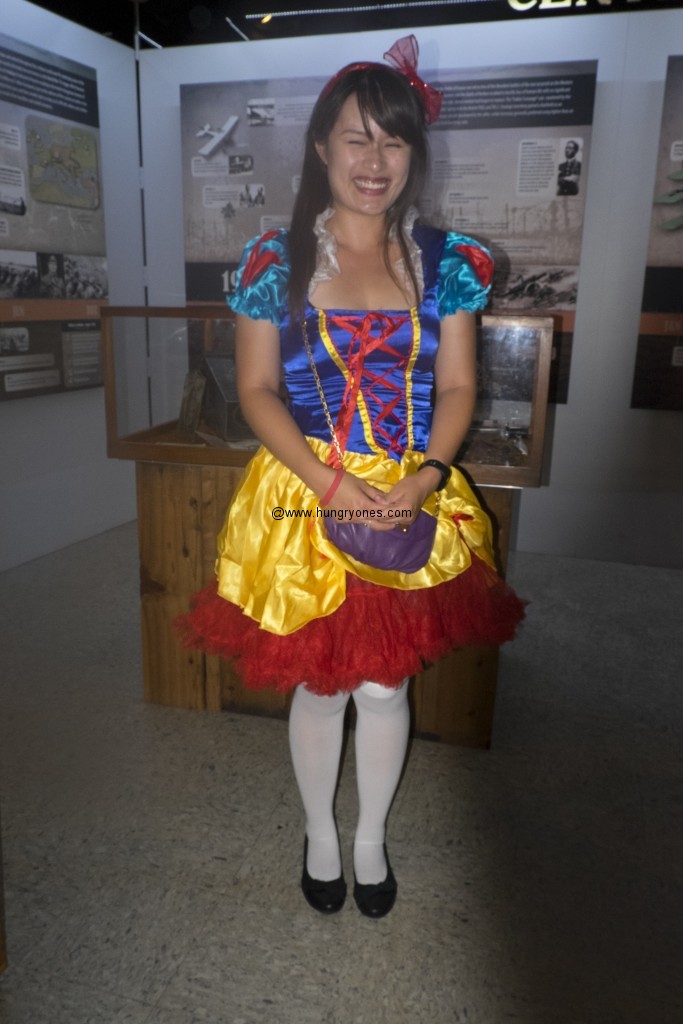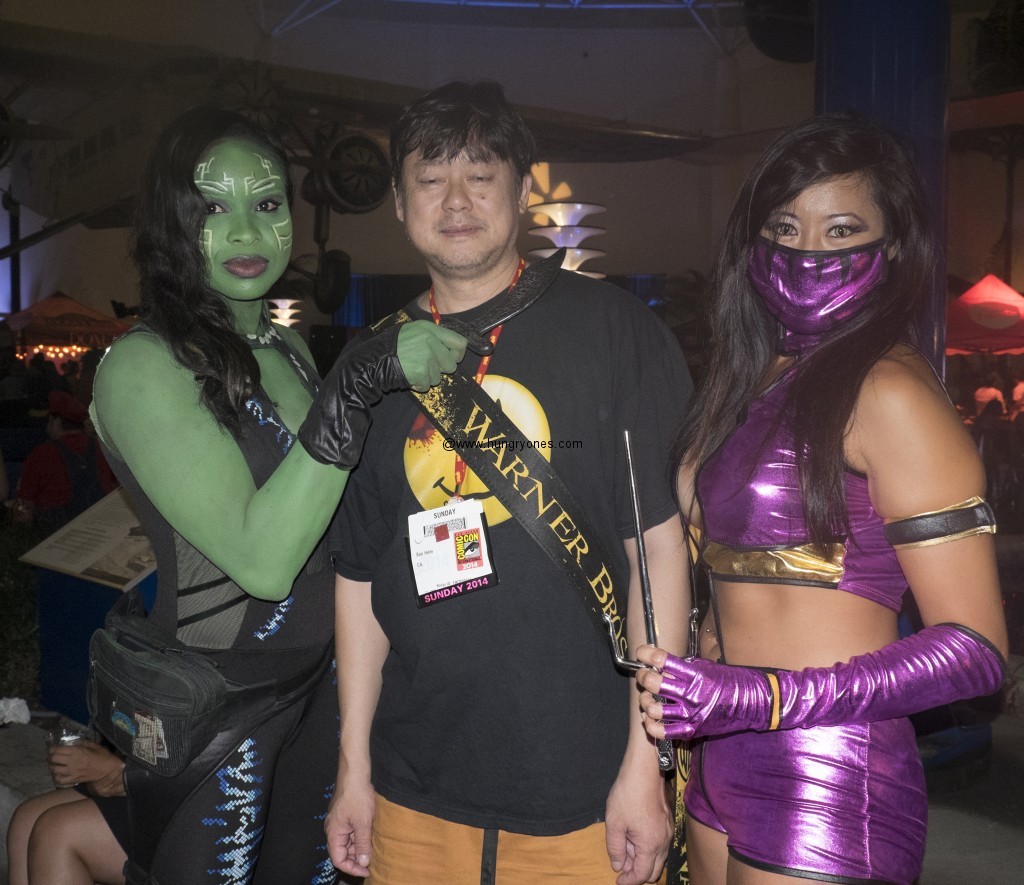 Was awesome walking around checking out examples of aviation history as well as watching the 2 4D movies.  I particularly enjoyed the bi-plane dogfights.  Was I bad enjoying 3 different massages from the awesome Massage Envy people?  My shoulders have a few sore spots and each person used different techniques to fix them.  🙂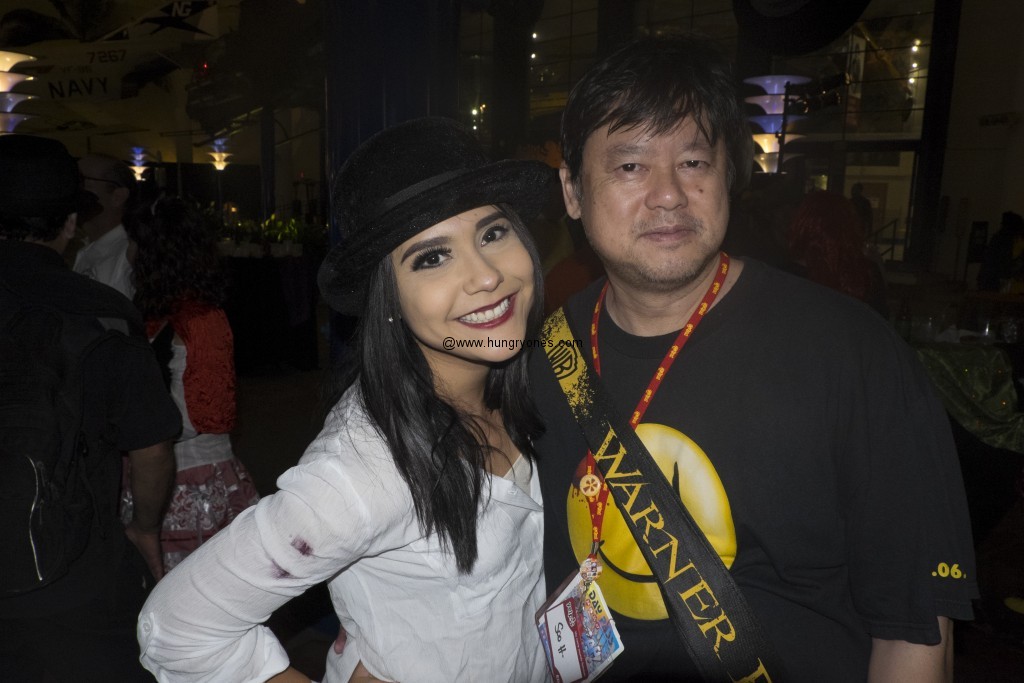 Thanks to Brad, Trish, Sandra, and Estefany and all the sponsors for the best Halloween party I've been to.  Cool of Lynn from Oh-so-Yummy to hang out with us.  🙂
By Soo